Empowering the girls of today can create a better future for everyone, and that's exactly what Techno Girl is trying to do. Working in collaboration with UNICEF South Africa, Techno Girl is a South African program that supports girls who are interested in pursuing careers in math, science, and technology. The program selects high school girls from disadvantaged communities to take part in mentorships, skills development workshops, and job shadowing in the STEM field.
"Being part of Techno Girl and other programs in my high school years was a blessing," Siphokazi Dayimane, an alumni said. "It exposed me to a world that inspired me to dream and want a better future for myself. With Techno Girls I got the opportunity to job shadow, which helped me a lot when I had to choose the course I wanted to do in varsity [university] and also awarded me a bursary [scholarship]."
Coming from a marginalized community
Siphokazi grew up in Khayelitsha and Blackheath townships in Cape Town, with her parents and four siblings. Both of her parents were unemployed and the family relied on social grants. Townships like Khayelitsha are where thousands of "non-white" families were forcibly moved in the early 1950s as a result of apartheid's Group Areas Act. Today, violent crime, drug and alcohol abuse, lack of access to higher education, and high unemployment rates are constant threats to the future of youth in the community, particularly girls.
In Khayelitsha, only 30.8% of Black South Africans finish high school, and of them, only 4.9% go on to university. The last census recorded the unemployment rate among Black South Africans in Khayelitsha at 38.32%.
For young women like Siphokazi from communities where unemployment is almost 40% and where women are more likely to be unemployed than men, a career in science and technology can seem like a distant dream. That's where Techno Girl comes in.
About Techno Girl
Techno Girl inspires future generations of girls to join the science and technology field, roles typically occupied by men. Women remain heavily underrepresented in science globally, with less than a third of women choosing to study higher education subjects in STEM. Globally, just 30% of scientists employed in research and development are women.
Techno Girl is working to change that. High school girls between grades 9 and 12 are introduced to the fields of science, technology, engineering, and math (STEM) through the program. During their time at Techno Girl, girls take part in job shadowing during school holidays, life skills training, CV writing courses, interview skills training, career guidance programs, personal development planning, and help with navigating university and scholarship applications.
"They rotate in [their assigned] company in different divisions, so they get exposed to as many careers as possible," said Andolene Hofmeyr, program manager at Techno Girl.
Once the Techno Girls reach university, Techno Girl supports them with job readiness training and networking. Over 70% of Techno Girls go on to further their studies in STEM after high school, Mahlatse Sithole, operations manager at Techno Girl, said.
The primary focus of Techno Girl is on empowering women of color to join the STEM field. Almost all of the Techno Girls are Black women or women of color from disadvantaged backgrounds in townships or rural communities.
Techno Girl aims to provide access to education and career opportunities for as many disadvantaged women in South Africa as possible. With the COVID-19 switch to online work, they took a huge step in that direction. In 2019, before the start of the pandemic, 400 to 500 Techno Girls joined the program. Since October 2020, they were able to enter almost 6,000 students into the program, thanks to the ability to host virtual job shadowing and workshops that girls could attend at their schools.
This made access to these programs possible for girls from rural communities.
In 2020, they also launched a 12-month "learnership" with 600 unemployed youth to train them in end-user computing and introduce them to coding and robotics. The Health and Welfare SETA, one of Techno Girl's government partners, gave each learner a laptop, data, and a stipend so they could learn remotely during the COVID-19 pandemic.
"We're even more able to reach the rural learners who otherwise would not have the opportunity," Mahlatse said. Their dream is to have 10,000 Techno Girls take part in the program each year.
Turning dreams of a bright future into reality
Because of her success in high school and her high marks at the Centre of Science and Technology, a STEM school in Khayelitsha, Siphokazi was selected in grade 10 to take part in Techno Girl. Through the program, she started job shadowing at PetroSA, a petroleum oil and gas corporation, in Parow, Cape Town and, in Mossel Bay, a town four hours away from Cape Town. After she graduated high school in 2014, she won a scholarship from PetroSA to study for her bachelor's of science in chemistry and biochemistry at the University of Cape Town.
After completing her degree, she joined the PetroSA Graduate in Training Programme in February 2020. Now she works at IQVIA, a health information technology, and research company, as a clinical trial assistant. One of her goals is to become a clinical research associate.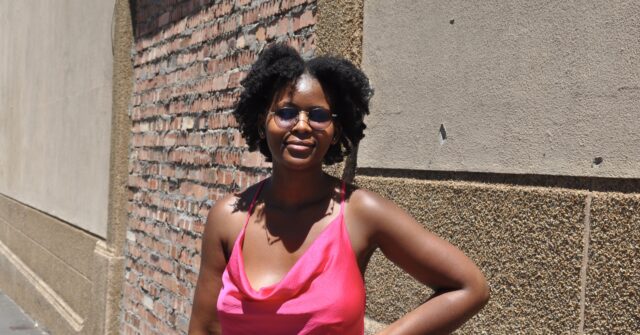 "Being part of Techno Girl helped me a lot," Siphokazi explained. She also said job shadowing at PetroSA through Techno Girls helped her to stay away from persistent issues in her community, like crime and substance abuse. Being part of Techno Girl "shielded me from all the activities that young girls like me were involved in, in my neighborhood, [that] wouldn't have a positive impact in my career in the future," Siphokazi said.
She's also helped other Techno Girls win scholarships to university by sharing her story.
Ilse du Plessis, a 25-year-old alumni of Techno Girl, graduated from the University of Cape Town with a degree in chemical engineering. She joined Techno Girl in grade 10, and like Siphokazi, job shadowed at PetroSA. "They awarded me a full bursary to go and study," Ilse said. In January 2020, she completed a two-year internship as a chemical engineering graduate intern at PetroSA.
"A lot of my peers weren't able to find work placements in their industry," Ilse said. "It changed my life. I had the opportunity to study because similar to other Techno Girls, I come from a single-parent home. I could study without that stress of worrying about funding."
Ilse said seeing female representation during her job shadowing at PetroSA inspired her to have a career in STEM. "They were very strong and had good command," she said. "There are so many women who are paving the way now." At the University of Cape Town, she remembered seeing the story of a chemical engineering graduate in a university brochure.
"She looked a bit like me, and that inspired me so much. If she could do it, I could do it," Ilse said. To girls who want to have a career in STEM, she said, "be inspired by the women in the industry and know that you can also do it."
Investing in students' futures
With the impact of COVID-19 on Africa, investing in the futures of Black students is even more critical. After the pandemic started, the number of students in South Africa not attending school tripled, hitting the lowest attendance rate in 20 years. In the community where Siphokazi comes from, Khayelitsha, just 35.9% of Black students finish high school or higher education, as reported by the last census.
Some start Techno Girl with 30 or 40% scores in their school subjects, "but by the time they complete matric [high school], they are so inspired and motivated by what they are experiencing in that world of work, mentors, and role models that the vast majority of them pass with a bachelor pass [making them eligible to attend university]," Andolene said.
"[Our work] has to be impactful," she added. "It has to be sustainable, and at the end of the day, every child has to walk away with something meaningful that's going to help them to be an employee of choice, that will help them study somewhere, and make informed decisions in their career path."
Siphokazi wants to pass on what she learned at Techno Girl to inspire young girls like her, despite these obstacles, to pursue higher education and launch successful careers in the male-dominated fields of science and technology. She said encountering other Black women working at PetroSA while she was still in high school helped her picture herself in a STEM career. Now that she's "made it," she hopes to be an example to other young girls that they can too. "For other people that come after me, they will see a familiar face," Siphokazi said.
Growing up, Siphokazi said her role models were the scientists she saw in movies in white lab coats. They helped her to imagine herself in this role and inspired her to dream of a bright future. "That's what inspired me to go into a career in science," she said. "Seeing the difference of that [seemingly] little thing you do in the lab [can] have a huge impact in the world."
"My dream is to inspire more young girls that have an interest in science careers," she continued. "I would like them to see that they are represented in the science space and that it is possible for them too."