Deborah Adedigba is a ONE Champion from Nigeria.
Did you know that cancer accounted for "nearly 10 million deaths in 2020?" Or that cancer is a leading cause of death globally, and that in 2020, an estimated 70% of all cancer deaths occurred in low-to-middle-income countries? In fact, between 30%-50% of cancers could be prevented, "by modifying or avoiding key risk factors and implementing existing evidence-based prevention strategies," according to the World Health Organization.
And in Africa, the WHO has said there were 1.1 million new cases of cancer, resulting in up to 700,000 deaths in 2020. Nigeria has one of the highest cancer mortality rates in the world, with approximately 4 out of 5 cases resulting in death, according to the Global Cancer Observatory. And in 2020, there were over 124,000 new cancer cases in Nigeria and over 78,000 deaths.
But these aren't just numbers. They are real people with real lives, and they have a story. These numbers are someone's child, mother, father, friend, and loved one. In a country where quality healthcare can sometimes be like a luxury, the question is what happens to an average Nigerian diagnosed with cancer?
Fighting cancer in Nigeria
This is where 25-year-old Kemi Adedigba comes in with her project Cancer Aid Fund. In the latter half of 2020, Kemi got tired of the many social problems in Nigeria, especially in the healthcare sector. "Call it fate or coincidence, [but] every day I stepped out I would see at least one or two persons who had a chronic illness who were on the streets begging," she said. "It felt like the problem was calling to me and it was actually deafening. So instead of ignoring it, I got inquisitive and started to research the healthcare system in Nigeria; health insurance, primary healthcare, all those things."
In January 2021, she started a development organisation alongside her friends with the same passions and burdens called the Hub For Social Impact and Development. In February 2021, Kemi wrote a book called WE SHOULD ALL BE CHANGEMAKERS and used the proceeds of the launch to save her first set of beneficiaries — four children with leukemia, sepsis and pleural effusion, cerebrospinal meningitis, and pneumonia.
"They paid for all of my son's outstanding medical bills, his drugs, paid for his bed fee that had piled up, and even paid for physiotherapy post-discharge," Mummy Oba, a parent of one of the beneficiaries, said. "I am very thankful for their organisation and I keep praying for them because they saved my son's life."
"They supported us financially and emotionally till Suliyat [another beneficiary] was discharged," added Mrs. Muniru, the mother of another beneficiary. "I am so grateful to the Hub because when I came in with Suliyat, I had no idea I was going to return with her alive."
The Hub For Social Impact has saved and supported over 50 children with chronic diseases, and has partnered with and got a commendation award from the pediatric department at the University College Hospital, the flagship tertiary health institution in Nigeria.
Starting the Cancer Aid Fund and Art4Health
More recently, Kemi started to feel a special burden for cancer patients. This was due to the rapid prevalence of cancer in Nigeria. "Everybody knows somebody who has/had cancer or somebody who knows someone who has/had cancer," she said. "So, I started to ask questions and research, what can we do for cancer patients?" This is when she started to take her work a step further.
In a bid to ease some of the pain cancer patients and their families experience, Kemi created the Cancer Aid Fund, a social trust fund that provides financial and psychological support to cancer patients by giving 50% co-payment aid that supports cancer patients throughout their care. They also partner with primary healthcare centers to give free, routine cancer screening and to run early diagnosis campaigns in communities.
"The disease is already gruelling enough, a cancer patient and their family are already going through a lot physically and emotionally, the financial burden shouldn't be part of it," Kemi said.
"I remembered my art. I've been painting since 2019 and I enjoyed it. My mum always wondered how I would buy art supplies and spend so much time painting even though I didn't post my work or actively sell my artwork. It was a hobby and a mode of expression for me. This is how the idea of Art4Health came to life. What if I could sell my art, merch, and Afrocentric fashion pieces to raise funds for cancer patients in Nigeria?"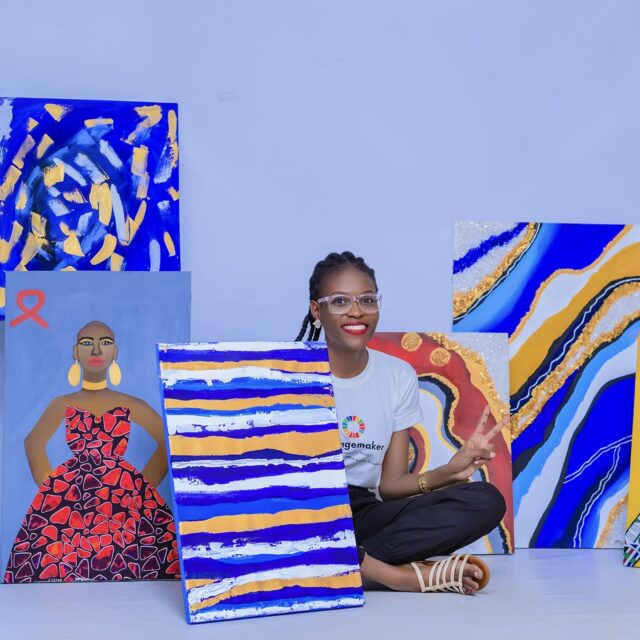 She launched the Art4Health Shop in December 2022, and the objective of this pilot phase of the Cancer Aid Fund is to provide 50% co-payment aid to 10 cancer patients to cover chemo, radiation, and surgery, and to provide free cancer screening to 1,000 Nigerians within the first quarter of 2023.
"I created the fund that gives at least 50% co-payment aid for the entire treatment course and psychological support, so cancer patients and their families don't feel alone," Kemi said. "Even better, if there can be early diagnosis through our routine cancer screening at primary healthcare centers, it increases the chances of survival rapidly and reduces cancer prevalence in the long run. This is what I'm trying to do."
Kemi's long-term goal through her work is to ensure every Nigerian has health insurance so that if they ever get diagnosed with chronic illnesses like cancer, financial worries are reduced to some minimum and they can access the care they need. She intends to accomplish this through multi-sectoral partnerships, as it is a social problem that needs all hands on deck.
And she hopes that she can build the Cancer Aid Fund into a multi-billion dollar fund permanently supporting disadvantaged cancer patients in Nigeria throughout their continuum of care.
Learn more about Kemi's work and how you can support it.