Campaign group speaks at panel event and will call on Government to invest more in health and Make Naija Stronger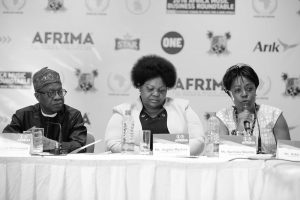 LAGOS, Nigeria – As a leading global campaigning and advocacy organisation, ONE will be participating at the AFRIMA 2016 Africa Music Business Roundtable to be held at the Eko hotel in Lagos. The theme for the roundtable will be the "Economic Power of Music for a New Africa", and will look at the power of music to boost development and economic empowerment.
Panellists attending the summit include:  Alh Lai Mohammed (Hon. Minister of Information and Culture, Nigeria), Ms. Angela Martins (Head, Culture Division, African Union), Ms. Nachilala Nkombo (Executive Director ONE in Africa), Mr. Omar Essaidi (Music & Artistic Director, Hit Radio, Morocco), Don Jazzy (Music Producer, Nigeria) and many more.
This is the third year ONE and AFRIMA have worked together, as both organisations believe in the power of culture to achieve social change. This year ONE's focus is health, through the group's Make Naija Stronger campaign which calls on the Government to invest more in health.
Speaking at the roundtable summit touching on ONE's role and experience in championing social justice through music, Executive Director of ONE in Africa, Nachilala Nkombo said:
"We're thrilled to partner with AFRIMA for the third time in a row. Over the years, we've seen how powerful of a force music can be in galvanising people around an issue. ONE Africa has worked closely with African talent to drive conversations in the continent that have changed narratives and caught the attention of decision makers. African musicians using their voices to inspire more than two million Africans to take action is just one of the many reasons we should be celebrating African music".
ONE's focus in 2016 is its Make Naija Stronger campaign, which calls on the Government to make Nigeria stronger through a boost in health investments and services across the country. Health investments today will be a critical ingredient for Nigeria to attain its vision to continue its leading role in Africa and the world. If Nigeria increased life expectancy by just one year, it would translate to approximately $19.2 billion in additional economic output.  In 2015, this would have yielded a 279% return to the economy. However, with the insufficient funding for health by Government, it holds Nigeria and millions of Nigerians back from their true potential. Nowhere is this more pressing than investments for girls and women, who suffer even more than their male counterparts, but when they are invested in, everyone benefits.
Previously, ONE has led strong campaigns on the African continent that included but not limited to agriculture transformation and women's empowerment through its Do Agric…It Pays in 2014 which produced the song Cocoa Na Chocolate calling on African governments to increase funding for agriculture – which would boost food security on the continent while also providing the youth with employment. The song was championed by D'banj, Diamond Platinumz (Tanzania), Victoria Kimani (Kenya), Waje (Nigeria), Fally iPupa (DRC) among others.
In 2015 the Poverty Is Sexist campaign in support of the African Union Year of Women Ampowerment called on African governments to prioritize development issues facing women. The campaign produced an anthem called Strong Girl, which featured 2016 nominee for Best female artist West Africa Yemi Alade alongside, Waje, Vanessa Mdee and others.
ENDS
For media queries please contact:
Yannick Tshimanga: 0027 63 6981093
Oma Areh: 00234 811083 8778
Chris Mitchell: 0044 7901006799
About ONE
ONE is a campaigning and advocacy organisation of more than 7 million people taking action to end extreme poverty and preventable disease, particularly in Africa. Not politically partisan, we raise public awareness and press political leaders to combat AIDS and preventable diseases, increase investments in agriculture and nutrition, and demand greater transparency in poverty-fighting programmes.