By Katie G. Nelson
Wearing brightly colored clothes wrapped around their waists and rings of yellow and red necklaces around their necks, the semi-nomadic women of Samburu, Kenya, live much the same way their ancestors did: raising children, caring for livestock, and tending to the home.
But in Samburu, one of the poorest and most isolated regions in Kenya, life is changing for the better, thanks in part to a few yellow tablets, some determination, and a little African-grown ingenuity.
The extreme heat, whipping dust storms, and parched land makes Samburu one of the most inhospitable regions in Kenya. The region known for game reserves and traditional Maasai culture is also known for lagging far behind the rest of Kenya's education and literacy rates.
Only 28.9 percent of Samburu's residents can read and write, compared to the national average of 66.4 percent. The county also faces high dropout rates for female students due to early marriages and pregnancies.
Those geographically and educational obstacles might seem too big a challenge for many, but for the team at BRCK Education, Samburu was the ideal environment to catalyze change using technology.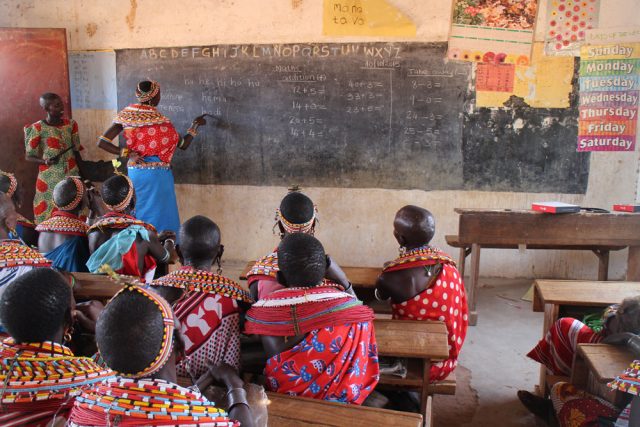 Piggybacking off the mission of their parent technology company BRCK, which makes rugged Wi-Fi hotspot and router systems, BRCK Education aims to expand connectivity to students in remote areas using Kio Kits, a go-anywhere, do-anything digital classroom in a box.
Contained in watertight black suitcases, each Kio Kit contains a powerful Wi-Fi router, headphones, a charging system, and 40 yellow tablets. Each tablet is pre-loaded with digital content tailored to both local and international curriculum and can be used with or without internet. The kits are currently being used in 12 countries around the world.
Providing access to a wealth of information, no matter your location or income, is core to BRCK Education's mission or expanding connectivity to isolated and off-the-grid communities around the globe, says Juliana Rotich, co-founder of BRCK.
"Access to information and access to education in general is a equalizer," says Rotich. "We should be striving to more equality, and equality in those two areas."
For Nivi Sharma, BRCK Education President, the importance of the Kio Kit was even clearer after working in the village of Kiltamany in Samburu, Kenya.
Sharma first forged a relationship with a primary school in Kiltamany under her tech company eLimu, which cultivates and distributes an array of educational and learning content. Sharma was evaluating the impact of the Kio Kit on students and teachers at Kiltamany Primary School when she encountered a group of women from the nearby village who also wanted to learn using the Kio Kit tablets.
Despite the fact that only two of the women knew how to read or write, Sharma and her team decided to leave one tablet with the group; and the results were remarkable.
Upon returning to Samburu several months later, Sharma discovered the women had formed a school that met once a week after they finished fetching water.
"And they had learned to write their own names," she says.
Sharma continued following the Samburu women, many of whom learned basic math and later how to read and write, she says.
"The women were saying, 'I can't believe I missed out on this. I now understand that my husband had four goats and he was selling them each at 4,000 shillings. He should've brought home 16,000 shillings, not 15,000 shillings."
"We realized that they understood immediately the educational and empowering possibilities of technology not just for their children, but for themselves as well," Sharma writes.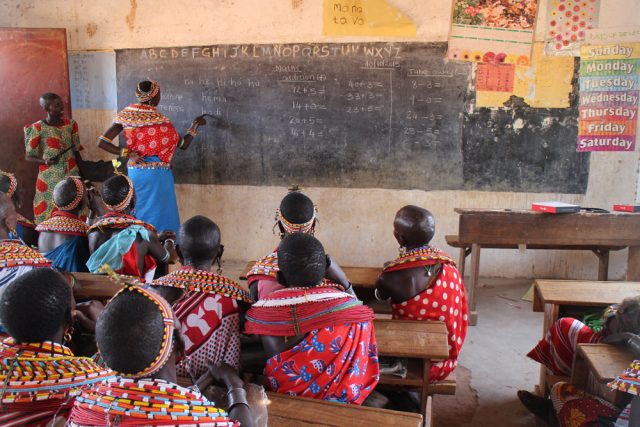 But the impact of the Kio Kit wasn't limited to the classroom, Sharma explains.
"The really interesting thing was we spoke to the (primary school) head teacher and he said the enrollment of girls just shot up because the women are suddenly saying, 'Oh my god, I don't want my daughter to miss out on this.'"
For girls and women, the opportunity to access any information anytime and anywhere is critical to expanding career opportunities—or even the possibilities—for a life beyond Samburu.
"When you think of the four walls of a classroom, if a girl is curious about something and all her curiosity is contained within those four walls—and the teacher and the textbooks in front of her—that's really limiting," says Sharma.
"What digital access means is that she's able to express and explore her curiosity. To let her voice be heard in a way that traditionally isn't."
Call on leaders and innovators from all countries, industries and communities to make universal internet access a reality by adding your name now.