When Innocent fled his native Democratic Republic of the Congo and arrived in the Kakuma refugee camp in 2009, he felt as if he couldn't have been any further from the rest of the world.
Kakuma is a sprawling settlement in a remote and arid part of northwestern Kenya, and its inhabitants — refugees from DRC, Somalia, Burundi, Ethiopia, and other countries — have little access to higher education, business opportunities, job markets, and healthcare.
For a while, like many others in Kakuma, Innocent spent his days idling away time. In Congo, he had been studying electrical engineering at Goma University. But here in the camp, opportunities for study and work were few and far between.
But all of that changed the day he was awarded a scholarship to study through Jesuit Worldwide Learning, which provides higher education to communities on the margins of society. Through a computer screen in the camp's learning center, Innocent and several other students were able to connect to tutors and professors on the other side of the world at Regis University in Colorado.
"There is no university in Kakuma, but the internet gave us a virtual campus and we were able to further our education," says Innocent, who was awarded a diploma in liberal arts with a major in business. "Even before I received the diploma, I was able to start my own grocery business thanks to what I had learned through that online course."
Once Innocent made a living off what he'd learned and the impact of his online education became clear, he knew that countless others in the camp would also benefit from being connected to the internet.
Inspired by his love of art, Innocent created a website to connect artists in Kakuma to the outside world: "I know so many talented artists, but they used to be desperate because they couldn't make a living off their art." Through Innocent's website, Kakuma's refugee artists are able to showcase their creations and sell them online, giving them access to a whole world beyond the camp.
"Kakuma is a remote place, and we are physically disconnected from the rest of the world. But thanks to the internet, we can connect to anyone, anywhere," says Innocent.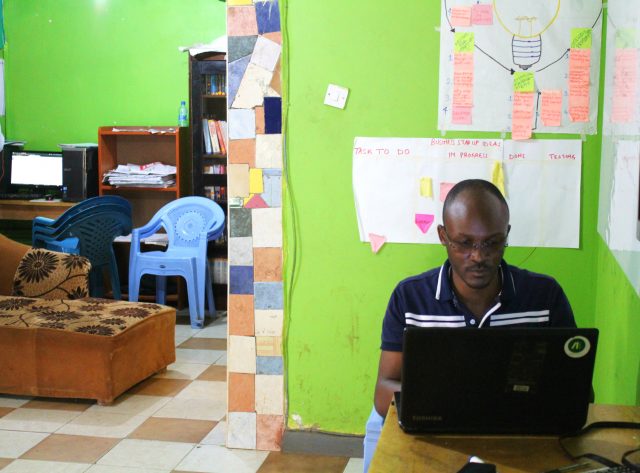 His new project intends to do just that: By connecting would-be business owners to outside investors, Kakuma Ventures aims to build sustainable businesses that provide education, clean water, healthcare, clothing, and more to the 200,000 inhabitants of Kakuma.
"Some refugees who already have established businesses might be able to get loans, but so far it's been impossible for those who are just starting out," Innocent says. "By getting them online, we want to train them in basic business skills and eventually connect them to investors from outside the camp."
Aware that access to the internet will only increase in importance as more aspects of life are conducted online, Innocent is continuing to deepen his knowledge of information technology and is currently studying in Nairobi at Tunapanda, an organization that delivers training in tech and business.
"I'm learning about ICT, making websites, design, and coding, and how I can incorporate this with my business skills," he says. "I want to be connected virtually to the rest of the world. I know that through technology, I can connect all the dots that I want to connect in my life."
Innocent knows that he can use his new skills to continue helping others, too. "There are so many opportunities through the internet. We could even think of developing new apps that help refugees find the family members they have lost during the war or while they were fleeing," he says. "Things like this give people hope."