Story by Megan Gieske; photos courtesy of Breadline Africa.
Breadline Africa started as a grant-giving organization, where those in need applied for funding and Breadline Africa raised the funds to meet them. Almost 25 years later, those in need can still apply, but assistance comes in a new shape and size — infrastructure!
Marion Wagner, Director of Breadline Africa, says that much of South Africa's infrastructure is unsafe. For parents who work, this can mean sending their children to schools or care centers that are overcrowded or under-equipped to deal with extreme seasonal temperatures.
Few would look at old shipping containers and re-imagine them as schools, libraries, and kitchens, but the fireproof, stable and durable containers provide a creative solution to the problem of unsafe infrastructure.
To become a classroom or childcare creche, the shipping containers undergo a conversion process that adds sunny windows to let light and warmth in, burglar guards to keep school supplies safe at night and full kitchens with indoor gas burners and ventilation.
The shipping containers have also transformed into libraries filled with books (provided in partnership with Help 2 Read and Room to Read), floor cushions, reading benches, and doors that open onto a veranda.
"A lot of the areas that we work in are socially and economically disadvantaged, with high unemployment, huge overcrowding, and parents very often away looking for work," Wagner said. Breadline Africa has placed more than 350 containers in areas of need across nine provinces, providing a safe space for children in the critical after school hours. "If we can reach more and more children, we can help them choose a path out of poverty."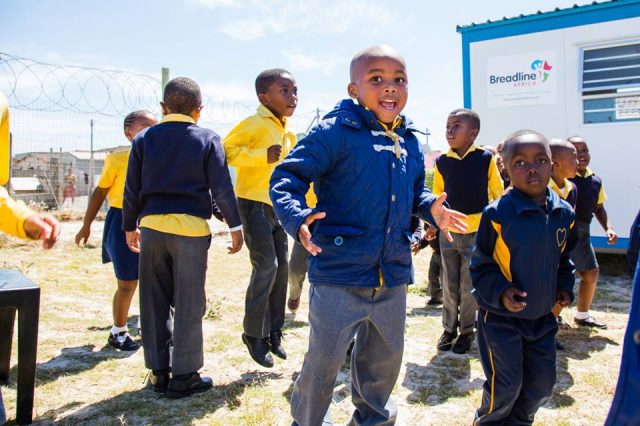 In July, the program and its partners gave Oranjekloof Moravian Primary School and their 1,240 students in the Western Cape a new library complete with 7,000 books. In thanks, school Principal Mkhului Qaba said, "What this means for the children is they have a place of refuge, a place of hope and a place of learning."
"Without an education, they really are never going to be able to find a way out of poverty," Wagner said.
The Breadline Africa director echoed, "For children, their safest place is not on the street."
There are hundreds of children who will benefit from each of those 350 container sites, which can last for 20 to 30 years.
ONE welcomes the contributions of guest bloggers but does not necessarily endorse the views, programs, or organizations highlighted.