The first full-length trailer for Black Panther gave audiences a sneak peek at the fictional nation of Wakanda. There's a lot to love about the look of this land, but its awe-striking technology stands out.
Some backstory: Before protagonist T'Challa inherited the throne, Wakanda was ruled by his father, T'Chaka. After a meteorite containing vibranium (a fictional super-metal) crashed into the nation, T'Chaka feared that the rest of the world would attempt to seize the land for the precious resource. He hid Wakanda from the rest of the world, allowing their technology to develop independently from the rest of the world, aided by the use of vibranium. The resulting technology is the most powerful and advanced in the world.
Nate Moore, the film's producer, believes that technology plays an essential role in Black Panther. "Black faces in positions of power or positions of technological know-how, that's a rarity," said Moore in an interview with Collider. "So it's something that's a big part of the film."
The technology in the film is certainly impressive, but the mastermind behind the gadgets is perhaps more outstanding. Shuri, T'Challa's sister and Princess of Wakanda, stands at the head of the Wakandan Design Group.
Letitia Wright, who plays Shuri, hopes that the film will be an inspiration to girls. "It's a privilege to be able to have such a character that a young girl can look back on, watch this film and be like, 'Hey, I might want to be a scientist. I want to be in technology,'" Wright said in an interview to E!Online.
Lack of access creates barriers for people all over the world, and especially for women and girls. The internet allows for paths out of extreme poverty, including job creation, access to education, improvement in health services, and stronger channels of communication between governments and their citizens. When people are given connectivity, they are given avenues of empowerment that can lead to revolution.
Despite being a fictional utopia, Wakanda represents the real power of technology and connectivity in the world. As ONE fights to achieve #InternetForAll, Black Panther offers a far-out glimpse at how internet access could change the world. Here are three incredible stories that prove how connectivity can bring the world to its own Wakanda:
1. Helping Girls Achieve Their Education through Internet Access and Technology
iMlango is improving education across Kenya by providing internet access, computer labs, digitized attendance monitoring, and online learning tools to primary schools. In addition to their work inside the classroom, iMlango offers a financial stipend to underprivileged families so that children can stay in school. By removing some obstacles to education, the girls in the program are able to achieve their full potential.
2. Saving Lives with MomConnect
South African mothers now have health information in the palms of their hands with MomConnect. The mobile program delivers weekly texts to new and expecting mothers, providing information on what they should be experiencing. Users can also ask questions with ease and receive quick responses. This program aims to decrease mother and child deaths during childbirth.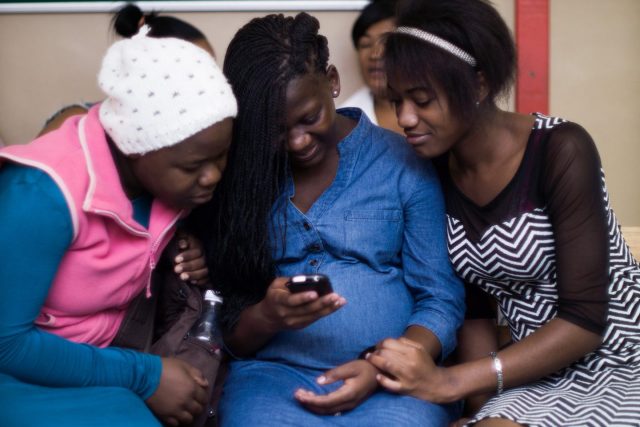 3. Kenyan Girls to Fly to Google HQ After Inventing App to End FGM
Five Kenyan schoolgirls were the only Africans selected in this year's Telenovation competition for their app, I-cut. The app connects girls at risk of female genital mutilation with rescue centers, and also provides legal and medical help for its users. The five girls, who call themselves "the Restorers," are hoping the app will end FGM in their communities and connect girls with the resources they need.
Wakanda may not be a real place, but the effects of technology are far from fiction. By joining the fight for connectivity, you can support the real-life heroes in these inspiring stories and unlock humanity's potential to be super.