Many extraordinary women, and often unsung heroes, played significant roles in the Civil Rights Movement and beyond. Their words and actions continue to inspire our work as we fight for a better and equal world for all people.
Here are some of the women who inspire us.
Ella Baker (1903-1986)
Photo credit: The Ella Baker Center for Human Rights.
Ella Baker was a highly respected civil rights leader who mostly worked behind the scenes advising, supporting, and mentoring greats like WEB Dubois, Thurgood Marshall, Martin Luther King Jr, and Rosa Parks. Baker's reputation as a leader and movement builder earned her the nickname "Fundi," which is Swahili for a person who teaches craft to the next generation.
Daisy Bates (1914-1999)
Daisy Bates was newspaper publisher who documented the fight to end segregation and discrimination in Arkansas. She became president of the Arkansas chapter of the NAACP and played a crucial role in desegregation. Fighting for desegregated public schools, Bates was the guiding force behind enrolling nine black students in an all-white high school in Little Rock, famously known as the Little Rock Nine.
Bates' relentless efforts to promote and enforce education equality are regarded as major contributions to the Civil Rights Movement.
Fannie Lou Hamer (1917-1977)
Fannie Lou Hamer led a life dedicated to fighting racial injustice and promoting the African American vote and voice in politics. She co-founded the Mississippi Freedom Democratic Party in 1964 and ran for Congress in Mississippi in 1965. While her bid for Congress may have been unsuccessful, Hamer's legacy of political activism during the Civil Rights Movement will never be forgotten.
Dorothy Height (1912-2010)
Dorothy Height spent her life focused on improving the opportunities of African American women. Height was a key organizer of the 1963 March on Washington, working with some of the major civil rights activists, including Martin Luther King Jr. In 1971 she help to found the National Women's Political Caucus. Acknowledging Height's contributions to the Civil Rights Movement and to women's rights, former President Bill Clinton awarded her the Presidential Medal of Freedom in 1994.
Diane Nash (1938- )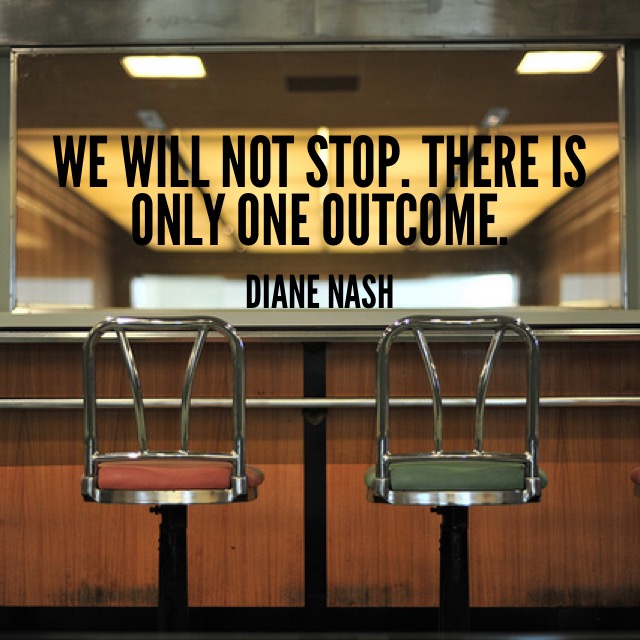 Photo credit: Original photo by Eric Chan/flickr. Words added via Instaquote.
Diane Nash was a member of the influential Freedom Riders and one of the most prominent student leaders of the Civil Rights Movement. Not only did Nash help found the Student Nonviolent Coordinating Committee (SNCC), but she also led the Selma Voting Rights Movement. A fearless advocate, Diane Nash is an incredible example of the power of students to create change.
Septima Poinsette Clark (1898-1987)
Known as the "Mother of the American Civil Rights Movement," Septima Poinsette Clark was a teacher and advocate for education. A member of the NAACP, Clark was involved in petitioning for the city of Charleston, South Carolina, to hire African American teachers. She also started citizenship schools, which taught literacy to adults in order to help many African Americans register to vote. As recognition for her contribution to the Civil Rights Movement, former President Jimmy Carter awarded her the Living Legacy award in 1979.
Jo Ann Robinson (1912-1992)
Many recognize the historic 1955 Montgomery bus boycott as one of the most important events of the Civil Rights Movement. Few realize, however, that Jo Ann Robinson was the woman who started it all. Following the arrest of Rosa Parks, Robinson distributed over 50,000 flyers calling on African Americans to boycott city buses on December 5, 1955. Jo Ann's sense of justice and belief in nonviolent protest propelled the Civil Rights Movement forward and changed the course of history.