"There's absolutely no reason you can't go on a motorcycle adventure if you're a woman."
Meet Lois. A motorcycle junkie from the age of 13, she's travelled over 50,000 miles by bike along the coasts of North and South America, across the United States, and through the entirety of Brazil and Iran (twice!) But one trip has the ONE office buzzing: riding four months straight to from London to Cape Town.
In 2001, Lois had no idea she would one day travel from London to Cape Town on a motorcycle. Back then she was the Product Manager at the BBC's record label, working out of a cubicle in a 9-5 job. She describes her first adventure in 2003 as an escape from this life, taking a 360 turn leaving the UK behind and heading to the west coast of North America, riding a motorcycle from Anchorage, Alaska to Ushuaia, Argentina, the southernmost city in the world accessible by road.
She fell in love with travelling, and vowed to never return to her desk at the BBC. Instead she turned to writing and published her first book: Lois on the Loose.
"If you're travelling by car then you're watching the movie. If you're traveling by bike you're in the movie."
Less than three years after returning from Argentina, Lois set off on the second motorcycle ride of a lifetime. Leaving London on October 14, 2006, she rode across the Sahara Desert, through Algeria and Niger, and along the west coast of Africa where she rode through hundreds of miles of unruly jungles in the Congo and even minefields in Angola. The route totalled 10,000 miles and took her four months to complete.
Along the way she met hundreds of people and found that, although she wasn't fluent in every language, nor was she a professional bike mechanic, everywhere she went she was greeted with friendly, helpful faces. After returning from Africa, she began writing her second book, Red Tape and White Knuckles, which chronicles her trip. She highlights one specific story where she is trapped in a mud river on her way to Caconda, Angola, and finds herself surrounded by a minefield.
When everything felt hopeless, a man with a smile and the cleanest white sneakers she'd ever seen found her and guided her safely through the rough terrain. What were the chances of her finding help in the middle of a minefield?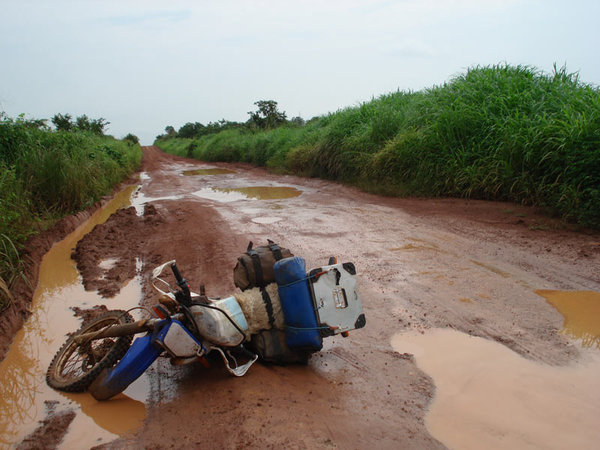 Even after having dozens of what I would consider terrifying moments, she still says "It's so much easier in real life than it sounds. Once you're out there you just get on with it and have a great time." I may need a little more convincing than that, but she attests to the sense of self confidence you can gain by taking a trip like this.
"You're more willing to take risks and have a go at things, and not just relating to motorcycling or travelling, but just generally in all areas of your life."
The past two summers she's taken trips across Iran and is currently writing another book on these experiences. Where will she go next? Read more about Lois' adventures on her website!
If YOU believe that women and men should be able to achieve the same things in life then sign our Poverty is Sexist petition to tell world leaders to put girls and women at the heart of the development agenda!