In 2005, independent policy advisor Simon Anholt began collecting data about what people think of other countries. What do Egyptians think of China? What do Danes think of Brazil? And so on. By 2012, he had 240 billion data points – the raw entrails of one of the largest social surveys ever conducted. He then took some time out to scrutinize the data and glean why people prefer one country to another. "What I discovered," Anholt told me in a recent interview, "was that out of all the reasons why people admire other countries, by a wide margin the primary reason was that they felt that that country was a good country." Two years later, the Good Country Index (GCI) was born.
By "good country" Anholt does not mean a rich or a beautiful or a technologically advanced or a powerful country, but one that benefits the world. "It's a stab at measuring what each country on Earth genuinely contributes to the rest of humanity," Anholt says. "There are hundreds of thousands of indexes that measure the performance of countries in different ways, but this was, as far as I can tell, the first attempt to measure what impact they have outside their own borders."
The GCI ranks 125 countries according to 35 indicators: positive indicators like humanitarian aid donations and UN volunteers abroad, as well as negative ones like CO2 emissions and arms exports. Anholt adjusted the measurements to reflect the size of a country's economy. Otherwise the richest countries would have outranked the rest simply by virtue of their wealth. "I wanted to find out what countries contribute relative to their ability to contribute," Anholt says. "The fact that Kenya, despite having a very small economy, can rank in the top thirty clearly shows that this isn't about how rich you are. Being a good country is about engaging productively and collaboratively with other countries. It's about behaving like a good neighbor."
While it's true that the countries lower down on the index tend to be poorer, Anholt says this is because necessity compels them to be somewhat inward-looking. "They are quite understandably focused on their own population, so they're not contributing an enormous amount to the rest of the world," he says. "But to be fair, those right at the bottom, in the region of 90 to 125, those are countries that are deliberately harming the planet and the rest of humanity. The ones that are just focusing on their own needs tend to be a little bit higher, between 50 to 90.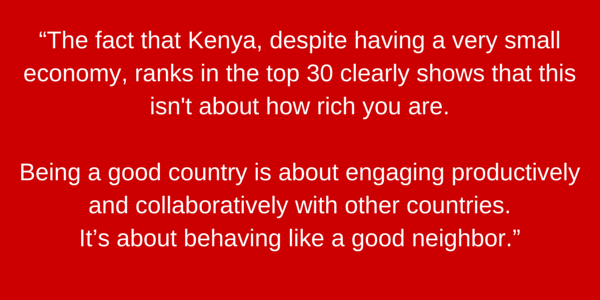 And what is the goodest country, according to the GCI? Ireland. In 2010 (UN data is always about four years behind), Ireland, relative to the size of its economy, contributed more to the rest of the world and did less harm to humanity than any other country.
The GCI also yielded some curious results. The most peculiar was this: Egypt, in 2010, under emergency law and on the eve of revolution, ranked #1 on Peace and Security (one of the seven categories into which Anholt's 35 indicators fall). As Anholt explains, "if you're very busy with internal conflict, it generally means that you don't the time or effort or resources left to harm anybody else. And a lot of countries that we normally think of as good—like Sweden, Switzerland, or the United States—actually export vast numbers of weapons around the world every year or are involved in international armed conflict. The Egyptians killed nobody outside their own factors."
In the future editions of the GCI, Anholt plans to make available data on domestic behavior, and possibly include a "hygiene factor," so if a country scores below a certain acceptable level on, say, human development or rights abuses at home, then that would penalize their overall score.
But the point of the GCI is not merely to give academics another index to reference. It is to spur change. "I didn't release this index because I'm a data geek or because I suddenly had a passion for measuring the performance of countries," Anholt says. "I did it primarily because, having done other indexes before, I know that that they are a very good instrument of public diplomacy. The answers to the challenges facing humanity are not to be found in this or in any other index, but they may possibly be found in the conversations that this index generates.

Anholt hopes tools like the GCI can influence leaders, political and corporate, to abide by a dual mandate: to understand that they are responsible for taking care of their own, while also factoring in the global implications of their actions. But being good is not just a selfless moral imperative. Indeed, there are benefits to being a good country, and this is the most powerful argument to governments.
"In the end, the reason why you should be gooder is because people like good countries. Do good and you will earn a good reputation. You will get more trade. You will get more tourists. You will get more investment. Your people will get more highly-paid jobs more quickly. Everything will work better for you as a country, and so in a sense that discovery squares the circle, because it means the most competitive behavior is the most collaborative behavior."
If you want to learn more about Simon Anholt's work on the Good Country Index or learn more about the Good Country Party, we recommend checking out his engaging TED Talk.