By the end of the G7 Summit, leaders had agreed to work to end extreme poverty and hunger by 2030. This is exciting news, but now we need to make sure that these commitments are kept!
Governments from the world's richest countries signed up for initiatives that:
1) Empower girls and women – which was what we called for with our Poverty is Sexist campaign!
2) Reduce the number of people living in hunger and malnutrition by 500 million by 2030.
3) Learn from the Ebola outbreak in order to respond more quickly and efficiently to disease epidemics.
4) Committed to reversing the decline in aid to the least developed countries and reconfirmed existing commitments including EU countries allocating 0.7% of national income to aid. One of our biggest asks this year was that the least developed countries started to receive a higher proportion of aid, so this is a great step in the right direction!
These are all incredible outcomes and reflect an inspiring (and effective!) year of campaigning from ONE members around the world, but the fight is not over…
We've broken down the official G7 communiqué and highlighted the good, the not-so-good and the definitely-not-good:
Official Development Assistance
Good: It's the first time ever that the target to deliver 0.7% of national income in aid that binds several countries is mentioned in the main communiqué. This is a great sign a month before world leaders meet at the Financing for Development conference in Ethiopia and determine their future development spending.
Not-so-good: The objective needs a credible and ambitious timeline, ideally with a deadline of 2020.
Good: The acknowledgement from the G7 that the trend of declining aid to the least developed countries needs to be reversed.
Not-so-good: We are disappointed that the G7 leaders haven't yet joined developing countries and others such as Belgium and Ireland in backing a concrete target: that at least 50% of aid should be allocated to the least developed countries, at the latest by 2020.
Hunger and malnutrition
Good: If the G7 delivers on its promise (to enable 500 million people to free themselves from hunger and malnutrition by 2030), they will have made a strong contribution to the end of hunger. This is likely to be one of the new 'global goals' and we are encouraged by this early momentum.
While this ambitious goal should encourage others, there is a lot of work for the G7 to do: in our experience, big G7 announcements are only worth as much as the accountability framework and the funding behind it. Development partners must mobilise $15bn every year if they want to meet the 500  million person target.
Girls and women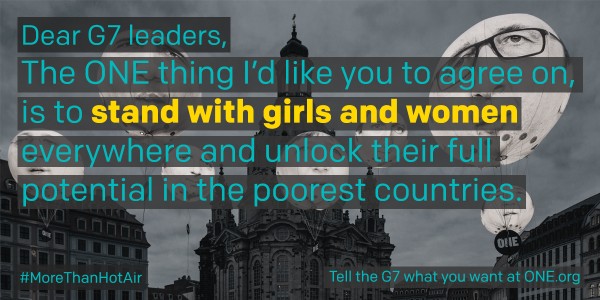 Good: For the first time ever, the G7 has agreed on an initiative supporting women and girls in G7 and also developing countries: with the increase of vocational training of women by a third, the G7 offers a trackable outcome target – though we believe that future summits must build on this initiative, as it is long overdue. We call on the G7 to seize one final  opportunity to support women and girls at the conference Germany's Chancellor Merkel will organize in September.
Health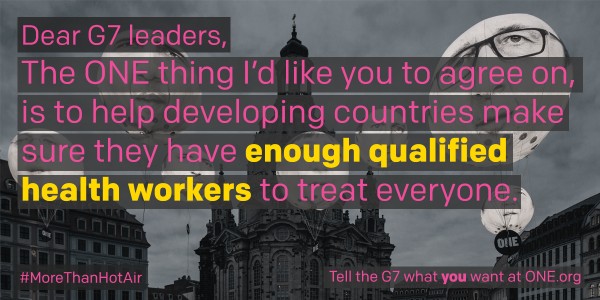 Good: Chancellor Merkel promised to make health one of the top priorities of her G7 presidency. The G7 commitment to assist at least 60 countries over the next five years to prevent future outbreaks from becoming epidemics is a tangible contribution, and the mention of the Global Finance Facility is welcome.
Not-so-good: These ambitious goals and financial commitments need fleshing out if the world is to be better able to respond to  epidemics like Ebola. So far, the G7 has learned only some lessons from Ebola. In addition to strengthening global response capacity, there is the less glamourous but crucial task of strengthening local health systems. This is mentioned but not adequately addressed. In fact, health care workers are completely absent from the communiqué. The G7 can't stop here on health, and the Global Fund Replenishment in 2016 will be an important test of the G7's resolve to deliver.
Tax transparency
Definitely-not-good: It has been two years since the G7 committed to include developing countries in the fight against tax evasion. However, no concrete results have yet been delivered. None of the least developed countries are part of the new system of automatic exchange of tax information and no G7 country has agreed to give them access to the data crucial to investigate against fraud. The G7 also stopped short of fully disclosing the real owners of companies and trusts.  This is even more disappointing as the summit took place against the backdrop of the FIFA scandal (that showed one more time how shell companies are used to launder dirty money – a process that robs the poorest countries of billions of dollars that could be used to fight poverty).
AU/G7 initiative on
renewable

energy
Good: The ONE Campaign applauds the announcement of the joint AU/ G7 commitment to install 10 GW of renewable energy in Africa.
Lack of access to electricity is a problem that plagues over 630 million people in sub-Saharan Africa, and undercuts progress on every development front.  Increased electricity will improve access to quality health care, education, and economic opportunity – all crucial for the end of extreme poverty.
All in all, the outcomes of the G7 are very positive, but we need to keep up the pressure to ensure that the new Sustainable Development Goals (Global Goals) announced in September reflect these commitments!
Sign our petition and tell world leaders it's time to make aid count and do what's right.