"You've got Milan, London, New York and Paris. Why not Lagos?" mused Penny McDonald, head organizer of Arise Magazine Fashion Week, an annual event that took place earlier this month. Nigeria's commercial capital, Lagos, hosted a week-long celebration of the best of haute couture — the first in the country, but certainly not the last. According to McDonald, there is "such an appetite for fashion" in the city that she has a "vision for making [it] the fifth fashion capital of the world."
She's not the only one with that vision. Arise Magazine Editor-in-Chief Nduka Obaigbena, who funded the week's events and covered travel fees for more than 300 visitors, agrees that "this is about putting Africa on the map." Like their fashion guru counterparts in Europe and the United States, Obaigbena insists that "African [designers] can contribute, be the best and be world class."
Nduka Obaigbena at Mercedes Benz NY Fashion Week
Nigerian-born designer
Buki Akib
is one of those contributing designers. A specialist in menswear,
Akib told Eleanor Morgan
of the Guardian that she hopes "platforms like this will show the industry that African designers can fit in internationally without having to be a separate entity."
Buki Akib reinterprets menswear
The 77 rising African designers competed to be featured in next year's New York fashion week. Oswald Boateng, a British designer of Ghanaian descent, was one of five to score a spot. Another specialist in menswear,
Boateng was the first black tailor
to move into London's prestigious Savile Row.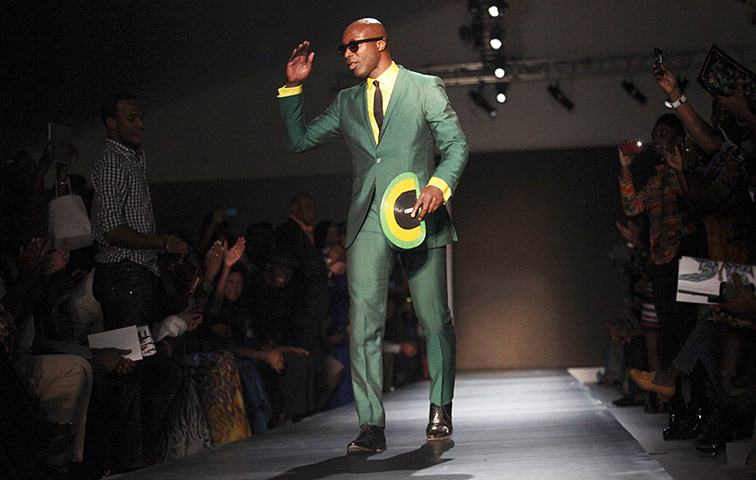 Oswald Boateng, a British designer of Ghanaian descent, greets the audience
Morgan's account of the fashion extravaganza sheds light on one key difference between European fashion shows and the one in Lagos: inclusion. "One of the marked differences to the major fashion weeks was just how many local people populated the audiences," she reported. "In Milan, Paris and London, the public barely get a look-in. Here, it's all about the public. Seating was a first-come, first-served affair so, along with the international buyers and journalists, the front rows were full of ridiculously glamorous people (mostly women) dancing animatedly along to the show music and rising from their chairs to applaud designers."
It seems that Lagos struck the right balance, allowing luxury to shine without excluding its fans. "We love fashion and come to be inspired," one woman told Morgan, "and to support our sisters."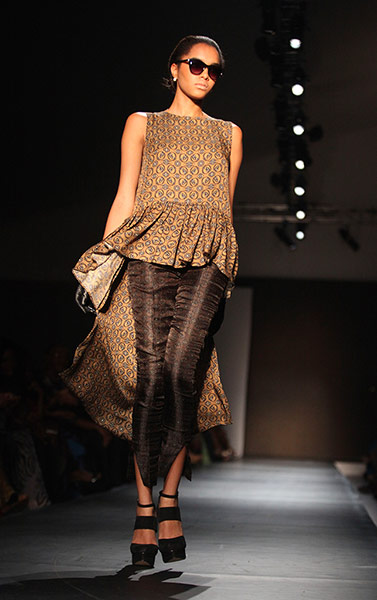 Flowing fabrics by Nigerian designer Jewel By Lisa.
at top: South African designer KLûK CGDT