New Alliance for Food Security and Nutrition: Part 2
BACKGROUND
The 2013 G8 Summit in Lough Erne is just two months away. At the Nutrition for Growth event on June 8th in London, held just a week before the G8 Summit, the international community will once again focus on the G8's New Alliance for Food Security and Nutrition. In a follow up to its launch at last year's G8 summit in Camp David, it is expected that the New Alliance will be expanded to additional countries and enhanced with several key changes. The New Alliance Leadership Council meetings in Cape Town, South Africa in May provide the first opportunity for progress to be examined and new changes to be unveiled. In light of this, ONE is raising important questions about this initiative:
Who are the companies involved, and where are they from?
What types of activities are the companies planning to do? (The focus of this brief)
How are countries selected to join? (Coming soon)
In our previous post,[1] we addressed the first question, which debunked common perceptions that the New Alliance was simply a U.S.-driven, multinational company initiative.[2] In reality, we found that there are sizable investments from African companies, many investments are spearheaded by African companies, and many of these companies are small-to-medium sized enterprises. In this post, we address the concerns from civil society and international NGOs of corporate bad behavior and commercial interests of large-scale agribusinesses seeking to sell their products in Africa without improving the welfare of the smallholder farmer.[3]
At ONE, our focus on agriculture in Africa is its poverty reducing potential. We believe that engagement with large agribusinesses within the context of global development must include concrete benefits for smallholder farmers and rural communities. These benefits could include increased (and more consistent) incomes, better health and nutrition, and economic empowerment of women.
In this analysis, we confront head on the concerns about the New Alliance and ask: are investments in the New Alliance designed to deliver these benefits to farmers? Do New Alliance investments treat smallholder farmers as simply buyers of multinational companies' products, or as entrepreneurs and sellers of their own agricultural products? How are women farmers being included? And finally, what does the New Alliance plan to do about improving interrelated issues like nutrition and postharvest storage that affect the welfare and livelihoods of farmers and their families?
In an effort to address these questions, we analyzed each country's Cooperation Framework, which includes summaries of intended investment, to examine exactly what the majority of investments are focused on achieving.[4]
VALUE CHAINS AND THE NEW ALLIANCE According to the Cooperation Frameworks, the New Alliance aligns with the African-led Comprehensive African Agriculture Development Programme (CAADP) of the New Partnership for Africa's Development (NEPAD) and uses Grow Africa's approach, which is based on the World Economic Forum's New Vision for Agriculture framework.[5] The stated goal is to bring the private sector to the table by creating an enabling environment for businesses and farmers to boost productivity and thereby increase the incomes of African smallholder farmers. But what does this environment look like and how do agribusinesses – large and small – work with smallholders?
To better understand the nature of these investments and how companies interact with farmers, it's helpful to use a value chain model as a lens (See Box 1). Figure 1 adapts the "inclusive agribusiness" approach, Growing Business with Smallholders, developed by Germany's Federal Ministry for Economic Development and Cooperation and the New Vision for Agriculture.[6]
Box 1: What is the value chain?[7]
The value chain approach in agriculture shows how a product travels from producer to consumer. Each step along the value chain progressively "adds value" and shows how businesses interact with one another. This approach is often used to identify efficiencies between "links" in the chain, ways to enable increases in productivity, and how to add value.[8] With the world's population expected to increase to 9 billion by 2050, new sources of supply are needed, and 500 million smallholders represent huge potential. Smallholders, through training, access to credit, and better technology, can produce output that meets high-quality standards.
This framework presents an opportunity for "inclusive agribusiness practices," a dynamic process where agribusinesses and smallholders work together to meet increasing demands for food and its byproducts. A decade of research shows that growth opportunities exist all along the value chain for businesses and smallholders alike, including specific stages or cases where participation is across multiple stages. Using Figure 1 as a guide, the descriptions below give further insight into each link of the chain.
<span >Research & Development: Companies research and develop new and improved products like seeds, fertilizer, plant protection products, irrigations systems, and machinery.
<span >Input distribution & Adoption: Inputs – including seeds, fertilizer, crop protections, irrigation systems, and machinery – are sold to farmers for use in agricultural products, with the purpose of increasing yields.
<span >Farming: Smallholders grow crops while working with companies to develop new farming systems for local, regional, and international markets.
<span >Sourcing & Trading: Companies "source" or purchase products from smallholders through different types of arrangements (e.g. contract farming, sharecropping, etc.) and trade them through regional and international markets.
<span >Processing & Manufacturing: Companies work with smallholders to process raw materials and manufacture products locally.
<span >Retail & Export: Companies sell food, drinks, fuels, fibers, oils, and other agriculture-based products either to other companies or consumers directly (e.g. supermarkets).

In the past decade, the advent of the value chain approach created a paradigm shift in thinking. Previously, large estate farms were considered the exclusive suppliers; now, smallholders can be the "suppliers" in formal supply chains. These farmers can either benefit directly through guaranteed sourcing of their crops or indirectly through wage employment, however certain conditions play a determining role. The scale of "benefit" largely depends on the scale of co-investment from other businesses in the chain: companies can help farmers with training and better seeds to meet production requirements; create direct trading relationships with farmers; and change buying practices to make them more beneficial for farmers. While neither easy nor automatic, under the right conditions, smallholders can thrive. In a 2010 report, the International Institute for Environment and Development (IIED) and Sustainable Food Lab collated the benefits to smallholders found in the current literature, including:[9]
<span >Income security and stability: Producers in "formalized" markets under contracts have greater certainty of the price they will receive and when they will receive it. Income stability is often more important than higher prices since unpredictable and volatile income create constant challenges for the poor.
<span >Improved productivity: Value chains that use standards or certifications lead to increases in productivity through better use of inputs such as compost and fertilizers.[10] In Madagascar, farmers benefited from new methods to make compost and treat the soil and had 90% gains in productivity.
<span >Access to services: Farmers in formal value chains often have better access to key services such as credit, inputs, and technology.
<span >Food security: Smallholders producing organic crops for commercial, certified markets have shown significant improvements in food diversity and sufficiency.
<span >Labor opportunities for those with minimal assets: While some farmers have inadequate resources to join value chains, research from Senegal found that those farmers can benefit indirectly through wage employment.
KEY FINDINGS
Our findings reveal that around 86% of investments in the New Alliance are targeted at three major links: inputs; farming; and sourcing. While smallholders can benefit from being included in formal value chains, support systems such as co-investment, training, credit, etc. are often necessary for these benefits to be realized. Fortunately, our findings reveal a majority of investments involve some type of co-investment. However, other dimensions related to gender, nutrition, and postharvest loss need to be adequately addressed, otherwise the benefits that accrue may be undermined or inequitable.
Companies intend to engage smallholders as sellers of their own products, not just "new customers" for the company's products. The majority of investments focus on sourcing, production, and better use of inputs. As shown in Figure 2, most investments (by quantity) are focused on sourcing more crops from smallholder farmers. In addition, projected investment dollar amounts, which are only provided for about two-thirds of the projects, show that both sourcing/trading and farming are at the top of the agenda. Many food processing companies include goals to double the amount of product they source from smallholders, while at the same time providing training and better inputs like hybrid seeds or mechanization to improve output. In fact, no less than 60% of the Letters of Intent involve at least some type of integrated support for farmers (i.e. training, credit, better seeds, irrigation, mechanization, etc.), which in many cases cannot be provided by civil society or government if public research institutions are weak or if there is insufficient ministerial capacity. Some examples are worth noting:
<span >Premium Foods: This Ghanaian processing company intends to increase its sourcing from 40,000 Ghanaian smallholder farmers by using an integrated approach of providing farmer training, mechanization, improved inputs, and postharvest warehouse storage.
World Cocoa Foundation<span >: This U.S.-based foundation is a member-based organization comprised of actors all along the cocoa value chain, including corporations, processors, and farmers. Their programs support Public-Private Partnerships in cocoa-producing countries, specifically Cote D'Ivoire and Ghana in the New Alliance. Their goal is to increase sourcing and double productivity from 35,000 smallholder farmers for processing and value addition. In addition, they are providing a matching grant to incentivize firms to invest more in farmer training and access to finance for inputs.
<span >Cargill: This global trader intends to invest in a 5-10 year Public-Private Partnership to improve grain production by providing risk management, investments in infrastructure, and training (including vocational opportunities) to 100,000 Ivorian farmers in order to increase yields and income.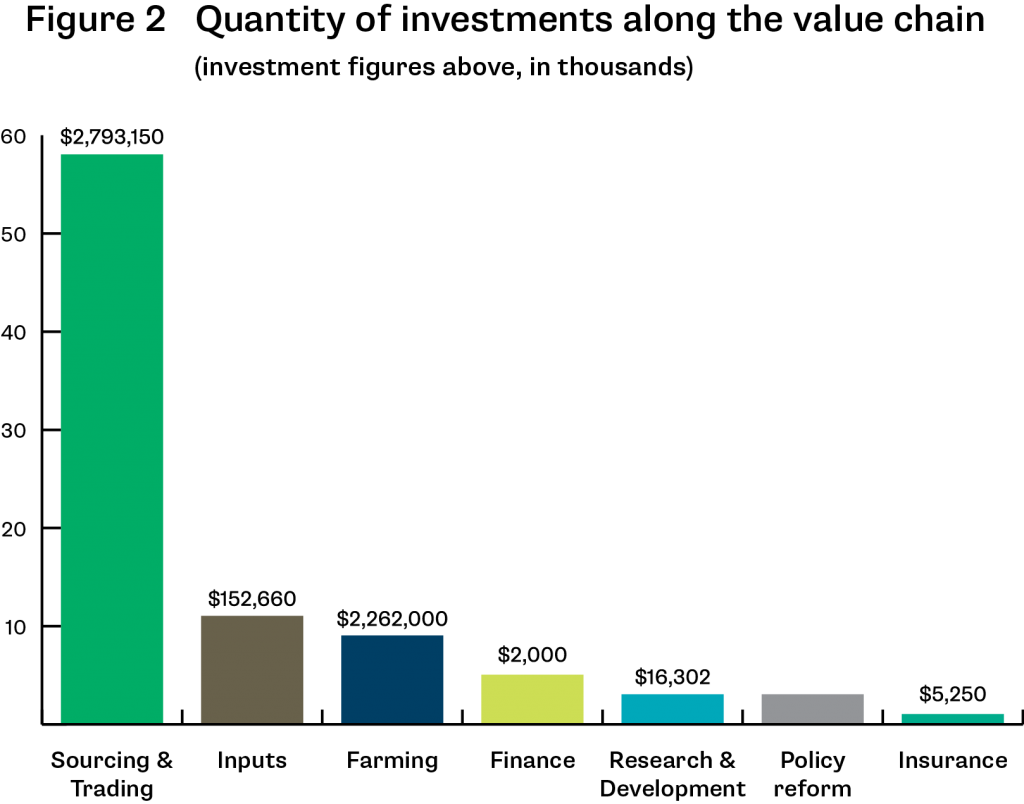 There is inadequate targeting towards women producers; investments with benefits for women need to be sufficiently measured. Only one investment, Union Conannet des Etuveuses de Riz de Bagré (UCERB), a women's producer organization, is explicitly targeted at women producers. UCERB, which is comprised of almost 500 members, is investing 20% of the total cost of the project to build a postharvest storage facility in Burkina Faso that can store 200 tons of rice. Another investment, Agence Deli International (ADI), also in Burkina Faso, is planning to build a processing plant for hibiscus flowers, which has direct benefits by sourcing from women producers. Some other investments include indirect benefits of wage employment, such as EBT-Trading Sarl, who is planning to build several farms (avg. size 50 ha) in Burkina Faso with rural youth and women benefiting from new jobs. Other investments may well benefit women – either directly or indirectly – but without clear and conscious reporting, it is impossible to account for these benefits. Given the high proportion of women involved in small scale farming, the New Alliance should include more investments targeted at women, and better reporting across all investments.
Nutrition remains a small component. Only 7% of investments include a direct nutritional component, while an additional 14% of investments are positioned along fruit and vegetable value chains. Some examples of direct approaches include Guts Agro Industry, a company developing the chickpea value chain to use for lipid-based, emergency food for children suffering from malnutrition in Ethiopia. Another investment is Hilina Enriched Foods, also in Ethiopia, which is planning to introduce nutritionally rich products like iodized salt and fortified flours and flakes, sourced from smallholders, with the purpose of improving the nutritional status of farmers and customers. In the future, the New Alliance should incorporate more of these nutritionally sensitive approaches in its planned investments.
Postharvest storage techniques need higher billing. Farmers can lose up to 30% of their harvest during the storage process due to mold and unsafe storage conditions.[11] Despite the importance of addressing the challenge of postharvest loss, only 9% of the LOI companies include a postharvest component in their investment. While increasing productivity is vitally important, much more can be done to address how those increases in yield can be preserved. Additionally, since postharvest techniques improve the overall quality and safety of food, there is a direct relationship between food safety and better nutritional outcomes. As the New Alliance expands, more investments should establish public-private partnerships with companies like GrainPro, which manufactures hermetically-sealed plastic bags that keep grain dry during storage, thereby retaining the economic value smallholders produce.
CONCLUSION
Based on our analysis, investments in the New Alliance are predominantly intended to include smallholder farmers in sourcing and production. The onus is on the initiative itself and other key stakeholders[12] to transform intentions into results, and to report those results in a transparent and accountable way. With the G8 and the New Alliance Leadership Council meeting in May fast approaching, leaders should respond to Prime Minister Cameron's call to build on the New Alliance and continue to support African-led institutions (e.g. African Union, NEPAD) that are vital to the growth and success of African agriculture. The following recommendations are intended to help companies and host governments improve future investments in order to make the New Alliance work for the millions of men, women, and children who want to lift themselves out of poverty.
NOTES