This is Phil.  He's the boss of Stash-the-Cash.com, a company who can set you up with a phantom firm in minutes – no questions asked.  We joined him on the streets of London to see if anyone was interested in his services.
First stop, Buckingham Palace.  Phantom firms can help criminals, corrupt politicians and dodgy businesses turn dirty money into clean cash. Billions are siphoned out of developing countries every year, and used to buy luxury properties, cars and jewellery.  We're not sure this place is for sale though.
Phil splashed out on a lovely big van to advertise his company for the day.  People liked it so much they kept taking photos of it, which cheered Phil up no end.
Some people were quite interested in what Stash-the-Cash had to offer at first.
Others seemed a bit unsure.
Phil's Ferrari turned a few heads as he showed off what dirty dollars can buy you once you've cleaned them up.
The great thing about Stash-the-Cash is that it's 100% legal.  So however dodgy your business is, moving your millions out of any country and into the tills at Harrods is easy.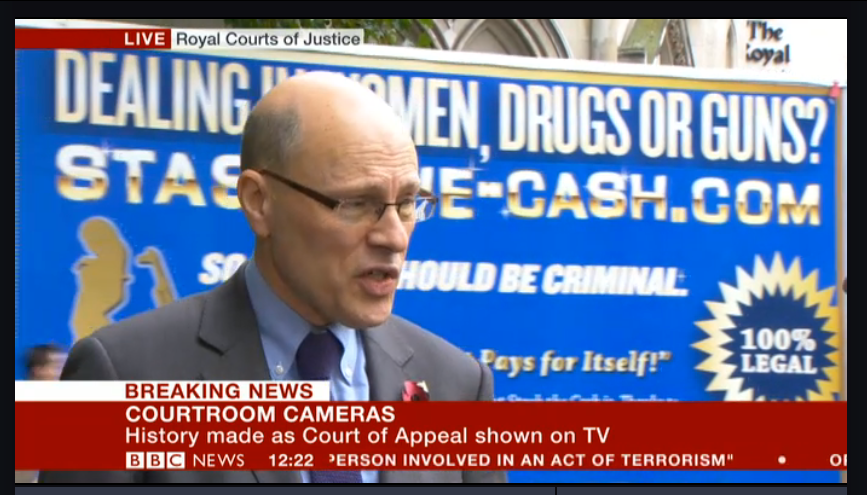 And to top a successful day of marketing off, the ad van secured some prime BBC airtime as it drove past the cameras reporting from the Royal Courts of Justice.  What a happy coincidence! 
Head over to Stash-the-Cash.com and see for yourself what Phil can offer you.  And if you've got any objections to phantom firms and the impact they are having on extreme poverty, you can tell Phil yourself on the website.
Photos: Charlie Whatley / ONE.