Today, the Organization for Economic Co-operation and Development's Development Assistance Committee (OECD DAC) released the preliminary Official Development Assistance (ODA) figures for 2014, showing how much donor countries gave in total development assistance last year.
The new figures reveal that aid to the least-developed countries made a downward turn in 2014.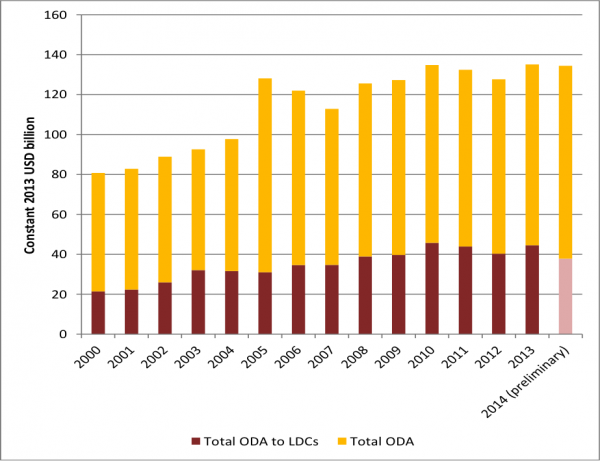 That's right, aid to the countries most in need actually decreased last year – at a time when it is most critical that we maintain our commitment to ending extreme poverty.
Alarm bells should be ringing at this shocking drop in aid going to those that need it most. The OECD's new figures show a $6.7 billion drop in aid to the least developed countries. That means that in 2014, aid to the very poorest countries was cut by $128 million every week – enough to vaccinate 6 million children.
The share of total development assistance invested in the poorest countries is at its lowest level since 2005, when world leaders gathered in Gleneagles and made historic pledges to end extreme poverty.
This must be urgently reversed and we can use our voices to help turn it around.
When G7 leaders gather in June in Bavaria and when the world's finance ministers meet in Addis Ababa in July, they must commit to prioritize the poorest countries and the poorest people, particularly girls and women. ONE is calling for all donor countries to allocate at least 50% of aid to the least developed countries, to help them meet basic needs like health and education.
This year the new Sustainable Development Goals, due to be unveiled in September, will set out the historic target of ending extreme poverty by 2030. The 3rd International Financing for Development Conference, in Addis Ababa in July, will be crucial to decide how to finance development going forward.
A full analysis of the new numbers is coming soon from ONE's Policy team.