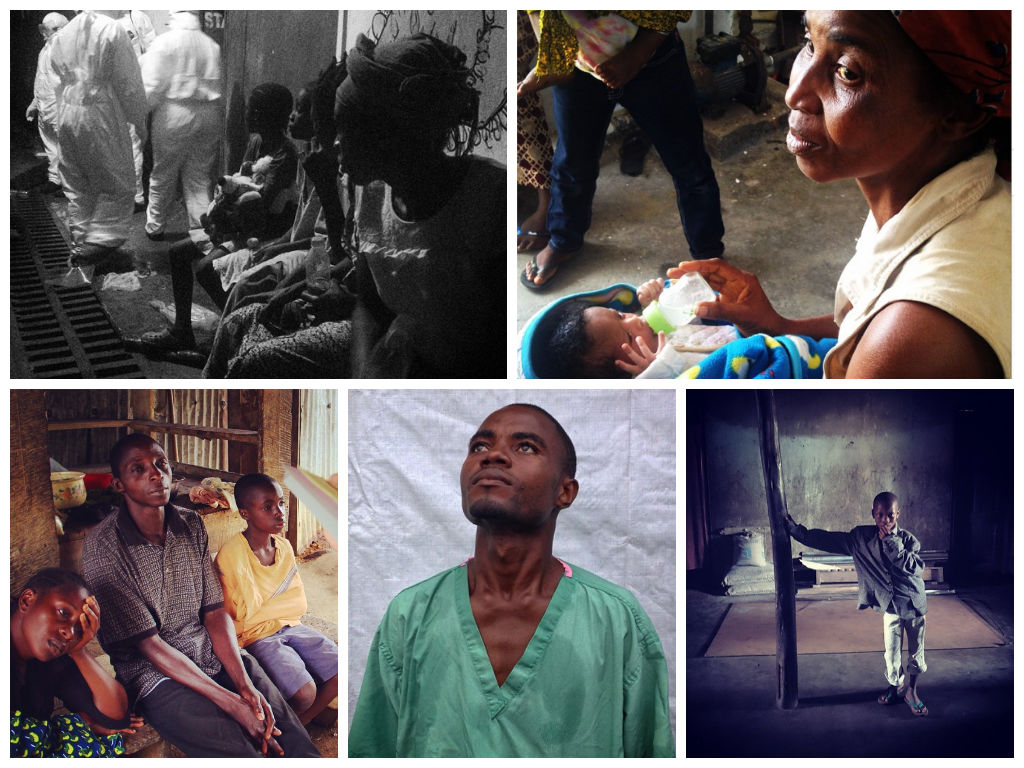 It's an important job, but a dangerous one. Journalists and aid groups are capturing the story of the Ebola crisis in West Africa for the rest of the world to witness. It's these stories and images that shock us. Touch us. Move us to take action.
For some of them, the photo sharing app Instagram has become an unexpectedly powerful tool to share intimate and personal moments in the crisis that slip through the cracks of the media –  in real time.
Here's a selection of Instagram users, ranging from photojournalists to humanitarian organizations, who have captured an incredible side to the Ebola story. Amid quarantine, the death of loved ones, and uncertainty of the future, these images depict many things: beauty and hope, but also fear and frustration. And a lot of waiting – waiting to see what happens next.
A visual journalist for the New York Times, Ben is currently on assignment in Liberia.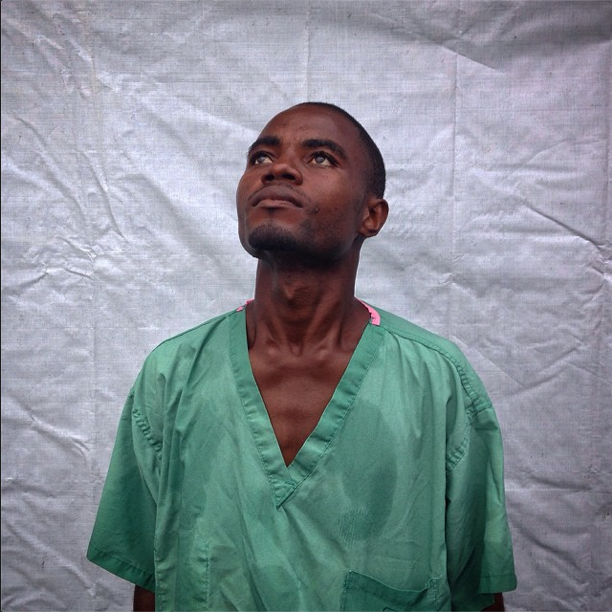 "Boakai. 29. A hygienist at the Doctors Without Borders #Ebola clinic. 'Watching kids die does not get easier. Everything else becomes easy with time. I have two daughters at home. I can feel them here all day.' #EbolaWorkers"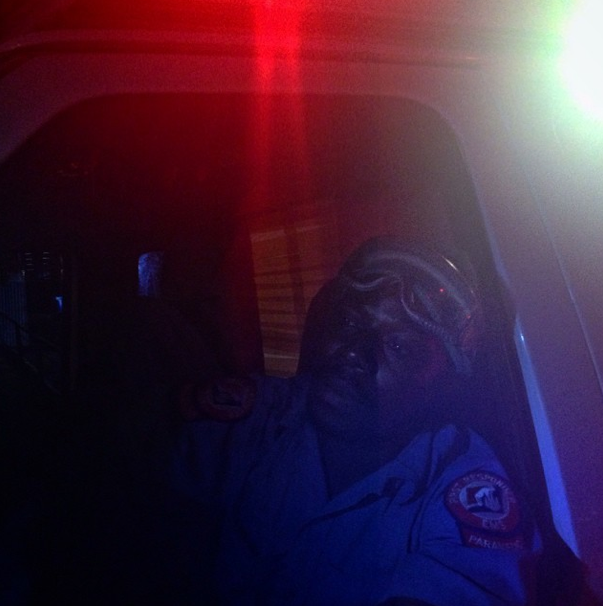 "Sam Bropleh, 34. Ambulance driver in #monrovia #liberia. 'We've worked for 12 hours today. We took this last woman from her home to the clinic. She's dying from #ebola. They tell us they have no space, so we must bring her home. There's nothing we can do.' #ebolaworkers"
Carielle is a producer covering Ebola in Liberia. She captures her day to day life while on assignment, as well as telling the stories of people she meets.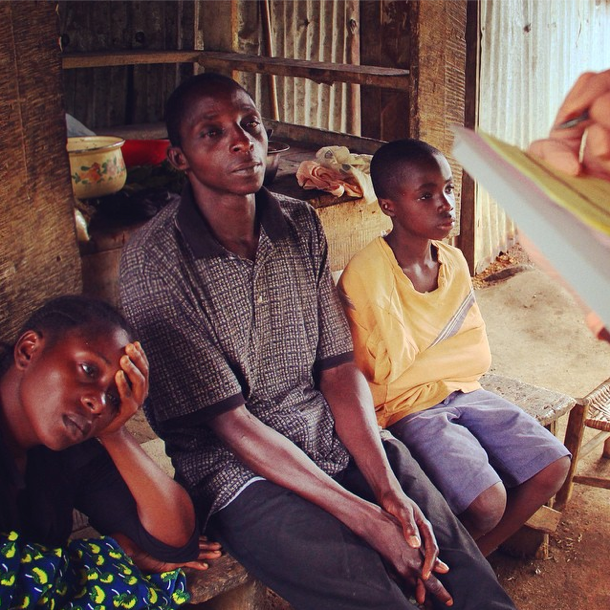 "Yesterday, members of a large family (I counted 14) answered the questions of a man from the #Ebola investigative team, which ideally goes out to assess the health of suspected ebola cases before an ambulance or burial team arrives. The man pictured here is Isaac. When his brother died from questionable circumstances and the man's landlord asked his family to leave, Isaac allowed them to live with him. Jessica (Isaac's wife in black) said the man's doctor told the family he hadn't died from Ebola. Now the whole family lives in only two rooms, and Jessica said that many of her relatives are sick. She told me that for two days, members of the community had been calling for help on behalf of the family, but no one had come… #liberia"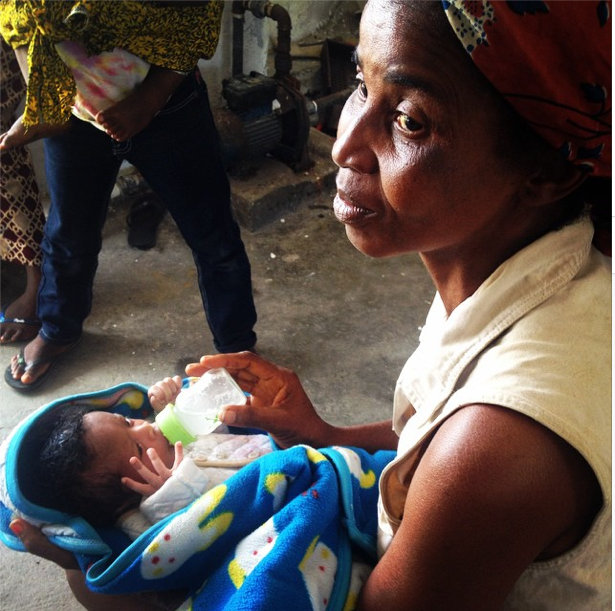 "A woman holds her week-old grandson. The burial team had just picked up his mother from a nearby porch, her body had been there since yesterday. Before the woman's death, the family says that they had gone to a clinic and had been told the woman had lost too much blood during birth and needed a blood transfusion. The clinic didn't do transfusions and the family didn't have money to pay for one anyway.
At JFK, staff wouldn't admit the woman because she hadn't been a patient there. Back when JFK was fully functioning, that wouldn't have mattered. A member of the burial team told me that he hadn't heard the family's reasons for her death, but that the body of the head woman had tell-tale signs of #Ebola. The testing team arrived shortly before the burial team, so there's no way to know how the woman died. She will be cremated today before any results. #liberia"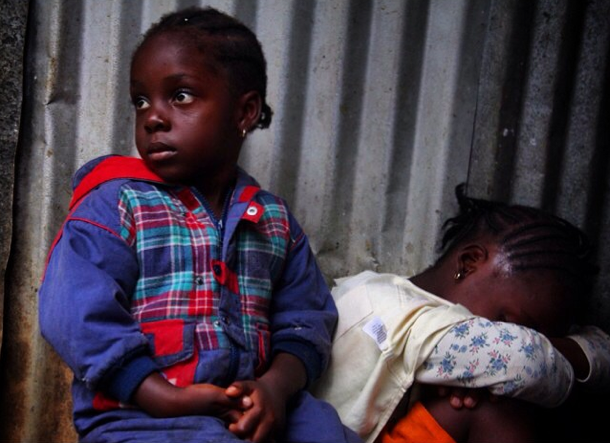 "A little girl watches members of the burial team. She is the daughter of Isaac and Jessica, the people featured yesterday. The other girl in the photo is ill. Sick members of the family continue to wait for an ambulance to come take them to an Ebola treatment unit.
Jessica is concerned that if her daughter stays in the home among sick people, she will also become ill. To curb the spread of the disease, the government asks that people who have been exposed to #Ebola remain in their areas. Neighbors have asked the family to stay at home under a community enforced semi-quarantine, so for now, they must simply wait. #liberia"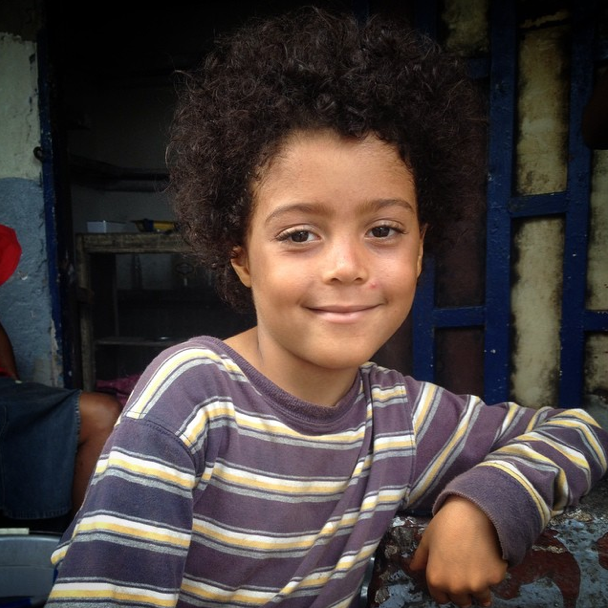 "And here's little Tom, with his epic 'fro. He's the grandson of Ma Sarah from yesterday's photo. I've seen him around for a long time and always thought he was adorable, I'm glad to finally have placed him. FYI The lady who died yesterday was not his mother."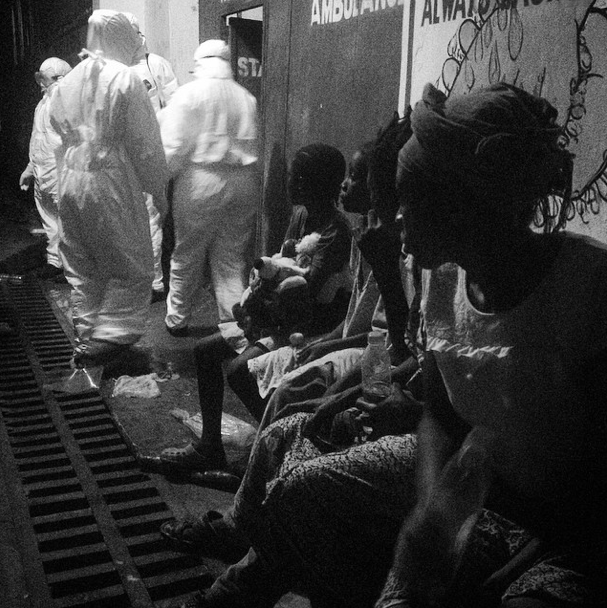 "A family that says they had been waiting for two days at the Redemption ebola hospital holding unit waited for medical workers to take them to the new Island Clinic #ebola treatment unit. Multiple ambulances yesterday took patients from Redemption to Island clinic. One worker told me that Redemption had 150 patients, which is the same number Island Clinic had the capacity for-so again, I would not be surprised if Island clinic fills up soon. #liberia"
Katie is the founder of More Than Me – an organization providing education, health and social services to girls from the West Point slum in Liberia. Katie and her team have formed a coalition to end the Ebola epidemic and stop the spread of the virus within the West Point community. Their goal is to prevent any further transmission and to support the community until no new cases of Ebola are identified.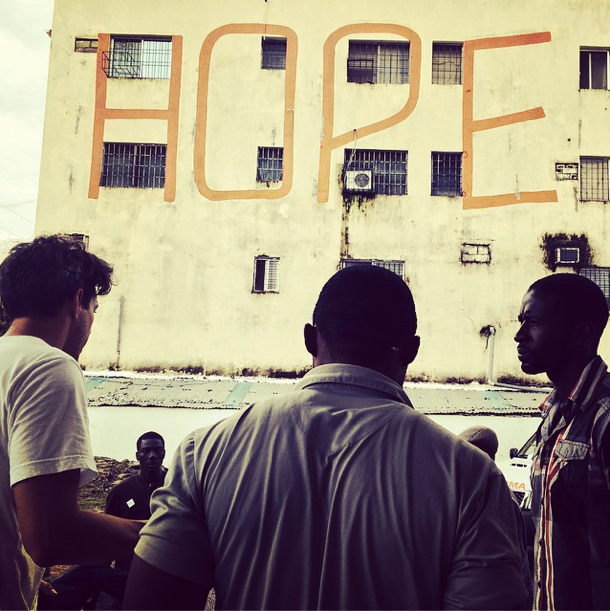 "The ambulance drivers are headed to their last training at MSF before they are able to pick up patients today."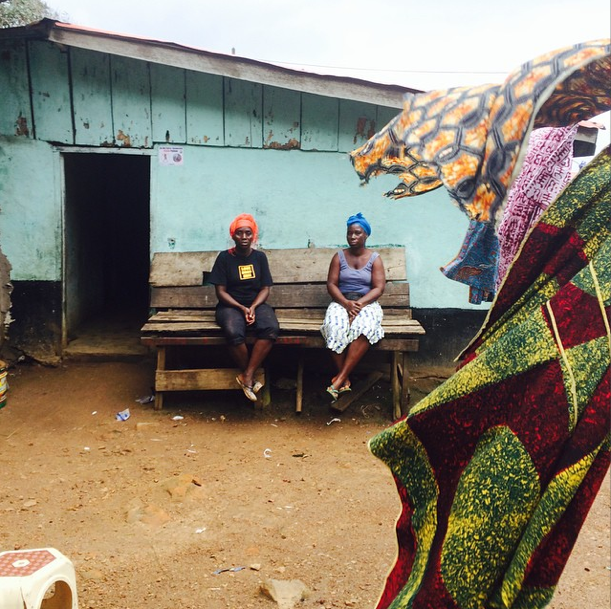 "My other neighbor whose husband is in the #ebola treatment unit. We discussed how she can help herself and family while they wait to hear from him."
"It feels good and a little strange to play in these times. Today was really nice. I didn't work much. Just enjoying being alive."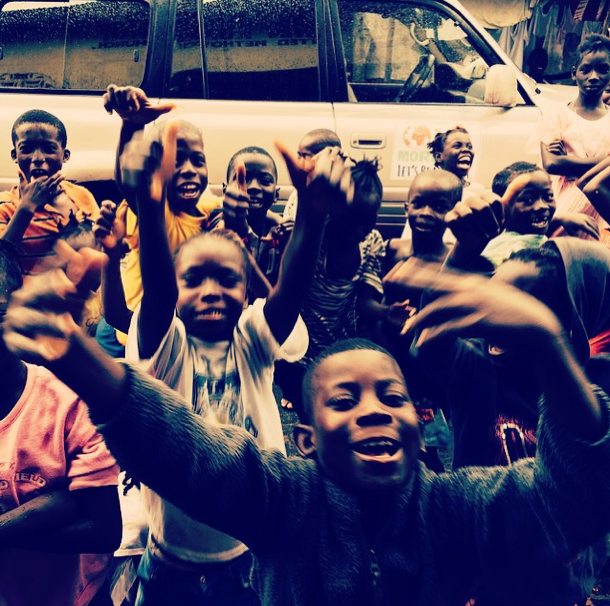 "You must #dance in the rain #always."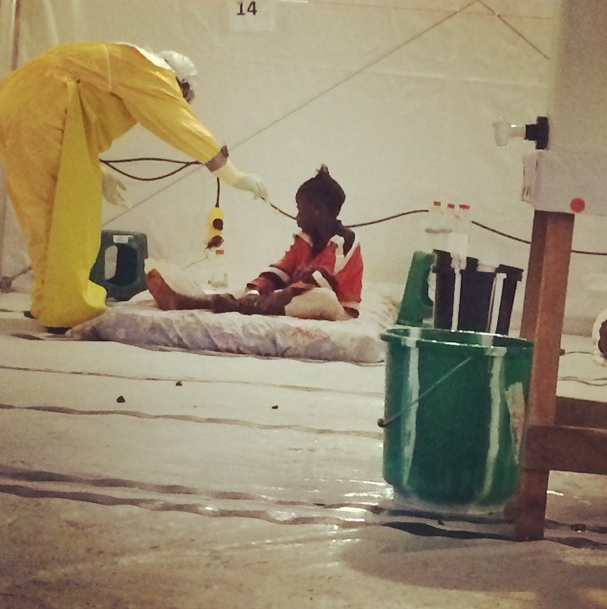 "A little girl all alone at an Ebola treatment unit. A worker feeds her."
The Red Cross has local volunteers on the ground in Monrovia, Liberia. These volunteers are helping to fight the spread of Ebola however they can, from raising prevention awareness to distributing food to quarantined areas.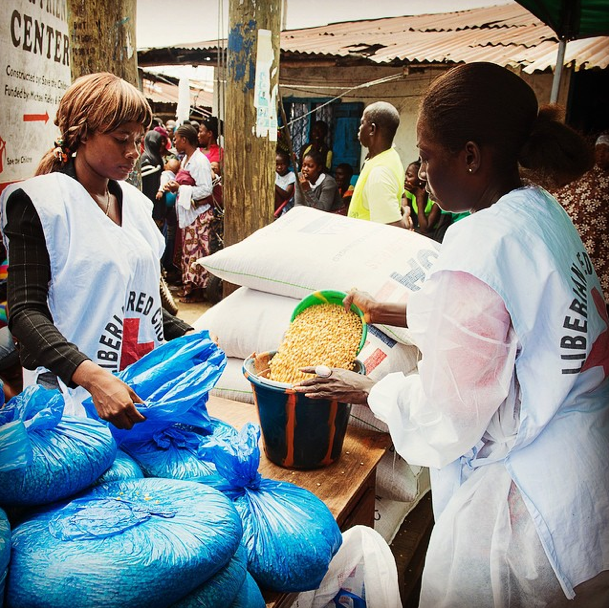 "Red Cross volunteers distribute food aid in a neighborhood of Monrovia, #Liberia that was temporarily quarantined in an effort to stem the #EbolaOutbreak. Thousands of local #RedCross volunteers are helping in the fight against #Ebola in West Africa, from raising awareness about preventing the spread of the virus to managing the bodies of those who have been died in the outbreak. Photo credit: Victor Lacken/IFRC"
Centers for Disease Control, @cdcgov
The Centers for Disease Control is finding out how they can support southern counties of Liberia during the outbreak.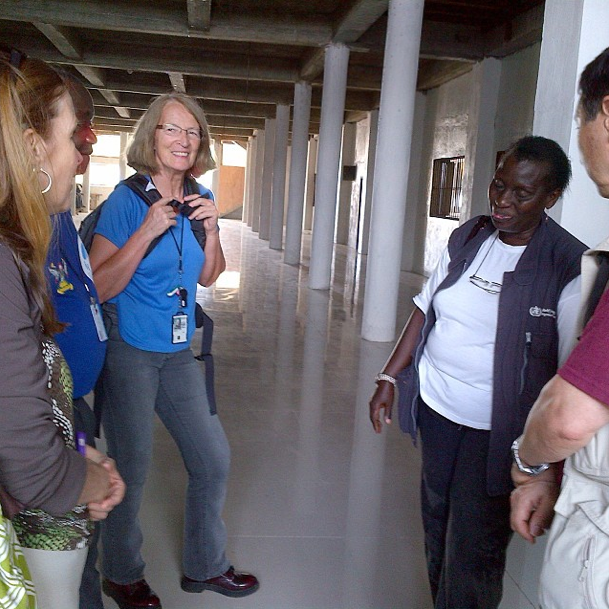 "CDC's communication director Dr. Katherine Lyon Daniel (left) learns about plans to reopen Island Hospital in Monrovia, Liberia, from the World Health Organization's Dr. Attai. The Ugandan physician is leading the drive to reopen the former private hospital as a 120-bed #Ebola Treatment Unit. #CDCintheField"
Luigi Baldelli, a correspondent for Corriere della Sera, has covered many of world's important events. His Instagram photos highlight the villages near the Sierra Leone border.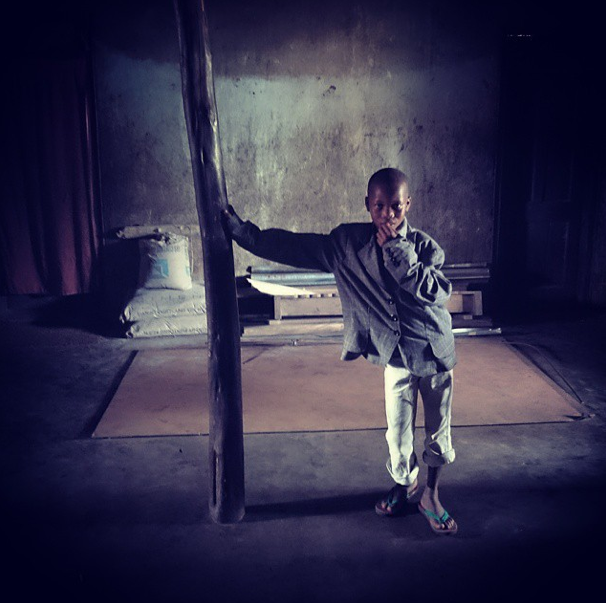 "#sierraleone village near Liberia border #ebola"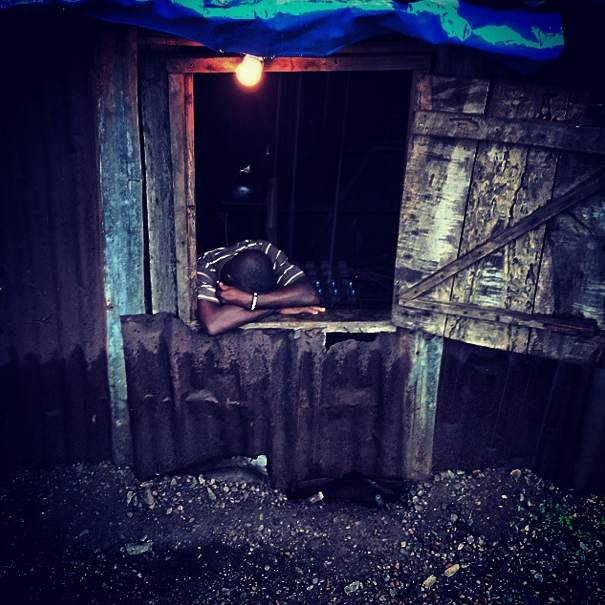 "#sierraleone border #Liberia"
Follow these Instagrammers – then take action with ONE: