In 2019, we launched the ONE Vote campaign across Europe. We set out with great ambition: Getting the majority of European leaders to commit to joining our fight against extreme poverty. And…. WE. DID. IT.
More than 200 members of the European Parliament (MEPs) signed the pledge. No party group can claim to be bigger than that. It was a powerful statement that, even in uncertain political times, political leaders can agree with us on one thing: Where you live, shouldn't determine whether you live.
This success was the result of 10 months of dedicated campaigning across Europe. With the ONE Vote campaign coming to an end, we thought we would share our secret ingredients to this success story.
1. Preparation is queen
🎬 Episode II of @IneTollenaers's recap on the #EPHearings👏🏼 Interested on knowing more about @JuttaUrpilainen and what's happening next with #VdLcommision? Tune in👇 #EPhearing2019 pic.twitter.com/BI0seqsRiB

— ONEinEU (@ONEinEU) October 4, 2019
At first sight, the European Union can be a bit complex — but that shouldn't stop activism. Our Youth Ambassadors studied hard and had some great support: ONE's policy and advocacy experts joined efforts to write sophisticated analysis and used killer statistics. With all that prep work, we were ready for some real talk with EU leaders.
2. Use your voice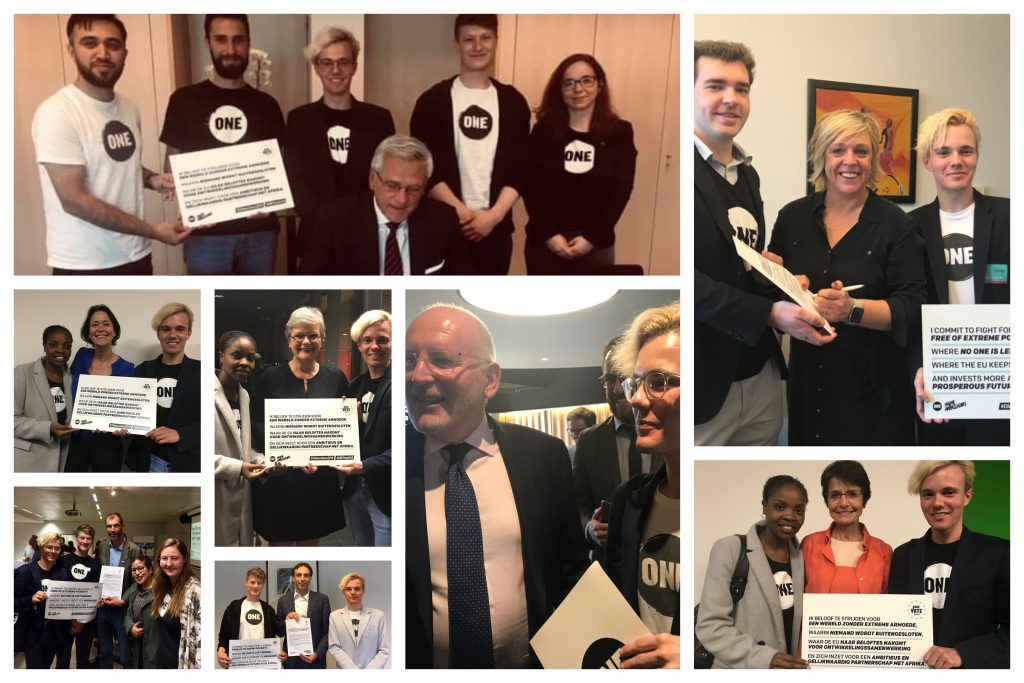 Politicians want to hear from you. They really do. After all, they're your elected representatives. So, in the midst of peak EU campaigning, ONE Youth Ambassadors reached out to their local candidates to talk politics and brought one very simple question to the table: Will you commit to fighting extreme poverty once you are elected? If politicians agreed, they were invited to sign our ONE Vote pledge.
The Youth Ambassadors were very convincing — we couldn't have done it without them!
3. Every tweet counts
Hello @CiolosDacian, many @RenewEurope MEPs have already signed our pledge to #EndPoverty 📝 Are you up for the challenge? #ONEYouth19 is at the 🇪🇺 Parliament today ready to talk to you. https://t.co/T4hyltIci0 pic.twitter.com/tRoyQ3ltdt

— Sebastiano (@Janus0148) November 5, 2019
Youth Ambassadors didn't have to do it all alone. ONE supporters from all over Europe joined forces digitally. They sent thousands of messages, emails, and tweets to politicians — showing them that people from all walks of life and across the continent demand action in the fight against extreme poverty.
This is an important reminder: A tweet or email only takes you a moment, but if people come together, this can send a powerful message to policymakers.
4. Go the extra mile
We tried to meet the politicians in their hometowns, but sometimes the timing simply wasn't right. That's why 30 Youth Ambassadors travelled to Brussels and took over the European Parliament. Equipped with stats, enthusiasm, and team spirit, they had almost 40 meetings with policymakers and managed to get the vast majority of them on board.
Thanks to these efforts, we were able to reach our goal of more than 200 signatures for our ONE Vote pledge, thereby overtaking the European People's Party as the biggest political group within EU Parliament.
5. Don't miss any opportunity 
Whenever there was a possibility to talk to policymakers and get our message out, we were ready. We attended town hall meetings, walked into constituency offices, seized the momentum during the commissioner hearings, as well as the new commission president's inauguration speech. That way, we left a lasting impression to be driven and persistent, and we did not accept no for an answer.
6. Be creative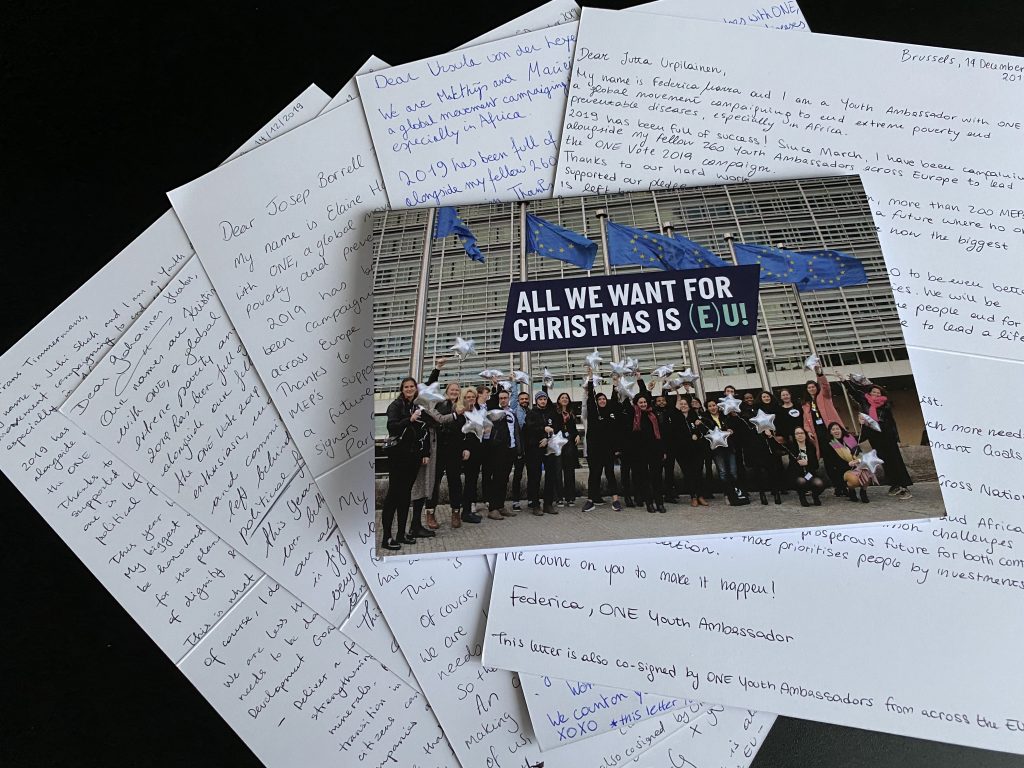 Yes, we did it! We're now the biggest political force in the European Parliament. But our ambition doesn't end here. We also want the new EU commissioners on board. One could say, that this our biggest wish for 2020 — so we got creative! What better occasion than Christmas to send special "wishlist cards" asking them to commit for a world free from extreme poverty?
After all, all we wanted for Christmas is the EU Commission to join forces with us. Youth Ambassadors in Brussels wrote these Christmas cards that were co-signed by their peers across Europe.
Is it all over now?
What's next, you wonder? Glad you asked. Whilst this campaign comes to an end, our fight for a Europe that thinks and acts globally is by no means over. Please check out our campaign ONE Chance and help us make sure EU aid supports the people and places that need it most.
Knowing how many supporters we have in this fight across Europe, we are confident that 2020 will see exciting and successful campaigning opportunities year-round. Stay tuned and until very soon!