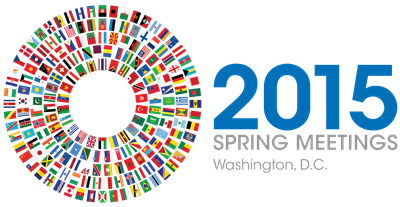 We don't want your money – we want your voice. That's what ONE usually says. We aren't about fundraising, and we don't want donations. We are all about getting smart policies agreed and implemented, and holding governments accountable.
Well, for the next few weeks, we are going to be talking a lot about money. Money may not be the answer to everything, but money can play a big part in helping end global poverty by 2030, if the right decisions get made in the next three months – starting right here, in Washington DC this week.
The Spring Meetings of the IMF and World Bank are always the place to find money people – the men and women that run the world's two main financial organizations, but also national finance officials and private bankers. The world economy is gradually emerging from the massive crisis of 2008, and they'll be in a slightly more positive frame of mind this year.
I hope they'll think beyond their own problems at home and think about what can be achieved in the world in the next fifteen years. The money that is spent on reducing poverty – from governments, from international organizations like the World Bank, and from the private sector – is critical.
Overseas aid is vital. As ONE members know, it's a much smaller part of government budgets than people usually think. But it's under pressure at the moment, because of politics. In Britain, the government has taken the vital step of fixing it at 0.7 per cent of GDP – a great and progressive move. In other countries – France, for example, aid is under threat. We want to make sure that we hold governments to their commitments, and remind politicians and voters how much good can be done.
But it isn't just the sums they commit that matter: it's where it comes from, and where it goes.
First, overseas aid needs to go to the people that need it most. Half of the world's aid should go to the poorest countries – the least developed countries (LDCs).
Second, African governments and other developing countries should seek to collect greater revenues, and clamp down on corruption and illicit flows, in order to invest more of their own money in meeting basic needs of citizens.
And third, governments need to make sure that their own budgets are getting spent on what matters; health and education, for example. For the poorest countries, such as Liberia with only $147 to spend per person per year, providing quality services will be nearly impossible, and aid is a true lifeline for those countries.
We'll be talking a lot about this equation in the next few weeks. And we'll also be campaigning to make sure that we get to see where the money gets spent, and how. Increasingly the data on government spending should be transparent to everyone, those that provide it through their taxes, and those that are supposed to benefit through spending.
This is all leading up to a conference in Addis Ababa in Ethiopia in July of Financing For Development. Twenty years ago, development spending was all about donors. Nowadays, development money comes from many different people, and it's no longer just about the wealthy countries dictating terms to the poorer ones. That conference should be about everyone stepping up with commitments to ensure we can end poverty by 2030, and that no one gets left behind.
It's critical that ONE members help remind their governments why this matters. We can end poverty, if we all get this right. The action starts this week, in Washington.