Today is Mandela Day, an international day of celebration that coincides with Madiba's birthday.  All around the world, people are giving 67 minutes, one for every year he spent working for a better world, to do something for others.
Here's our round-up of what's been going on.
In South Africa, 90% of children say they intend to pledge 67 minutes to Mandela Day. Students at this school have been singing and celebrating Mr Mandela's 95th birthday. Watch the video.
http://www.youtube.com/watch?v=r3XpSw_i1Yk
Shanghai based artist Phil Akashi has created a piece of street art made entirely by punching stamps of the Chinese characters 自由 which mean 'freedom'. Watch him create it.

In Mumbai, India, students with learning disabilities at SPJ Sadhana School  were treated to 67 minutes of African interactive drumming, hand painting and a whole lot of cake by Pule I Malefane, Consul-General, Republic of South Africa and his staff. See the full photo story.
In New York's Times Square a special birthday message is being displayed.  See a slideshow of images celebrating Mandela Day around the world.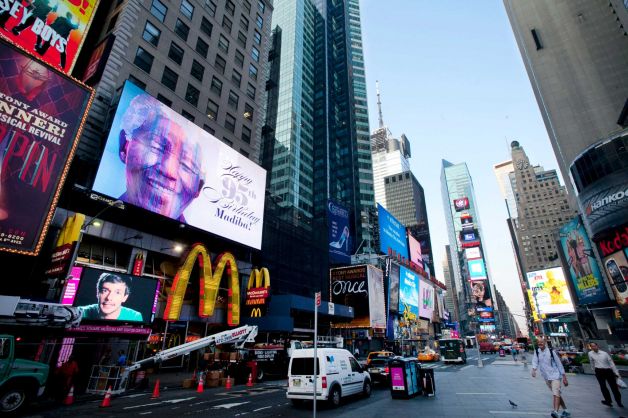 How will you spend your 67 minutes for Mandela Day? Pledge your time and get involved!