Photos by Frances Kennedy, WFP
In Liberia, one of the countries most affected by the Ebola outbreak, neighbourhoods like Dolo's Town and West Point have been quarantined to contain the spread of the virus.
The quarantine has since been lifted, but for a period of 21 days, it changed daily life for thousands of Liberians.
The sealed-off roads and areas meant restricted movement for nearly 50,000 people. Disruptions in the food trade made food increasingly expensive and harder to come by. Children couldn't get to school. Parents couldn't get to work. And labour shortages are putting the upcoming harvest season at serious risk.
World Food Programme provided assistance to nine counties of Liberia for about 39,000 affected people, delivering life-saving supplies like food and medical equipment.
These photos reveal what life was like living in the Ebola quarantine zones in Liberia, and how WFP is helping.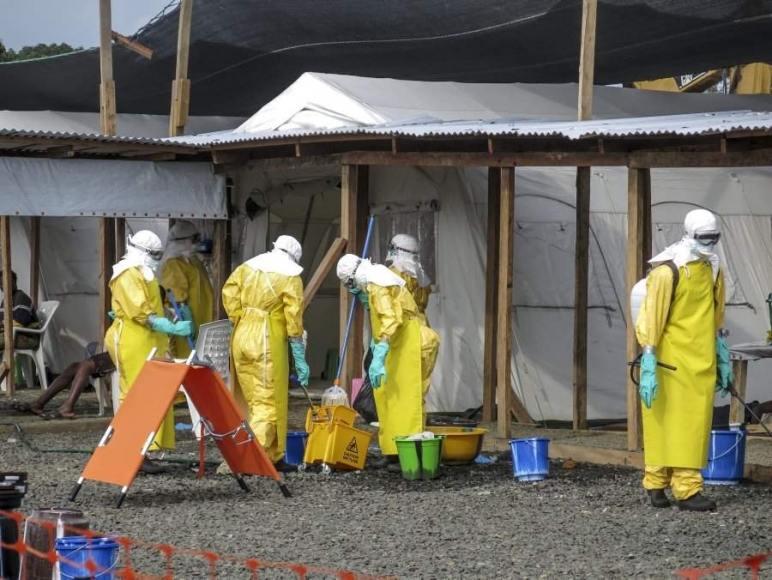 Health workers at an Ebola treatment center in Monrovia 
Health workers wear full personal protective equipment in an Ebola treatment center run by Medecins Sans Frontieres in Monrovia. WFP's logistics arm has provided support and mobile storage units to MSF as it expands this centre to cope with an ever increasing caseload of patients with the virus or those who are suspected of having it.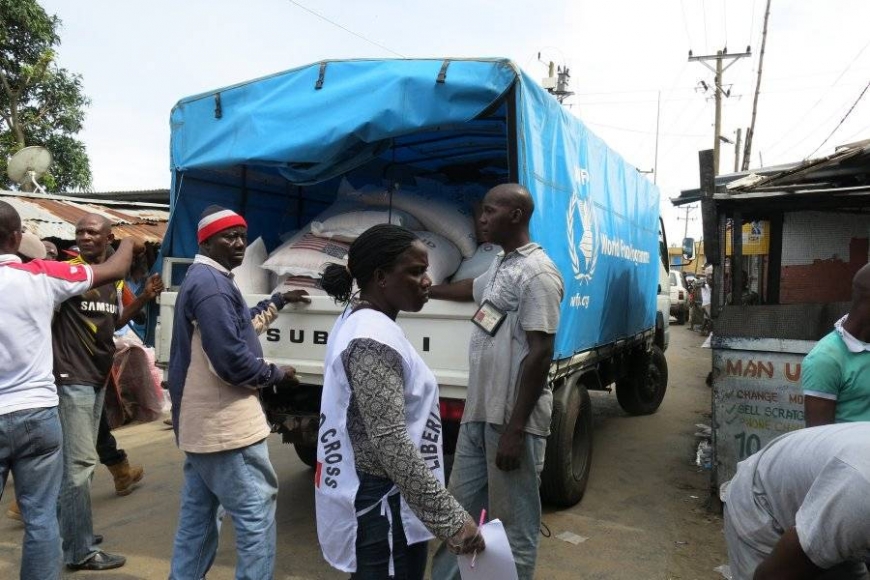 WFP assistance arrives in quarantined West Point neighbourhood 
In urban areas, like the congested West Point slum on Monrovia's beachfront, distributing large quantities of food is a challenge. There is just one sealed road in and out and food distributions happen on the roadside. Any traffic hitch can cause delays.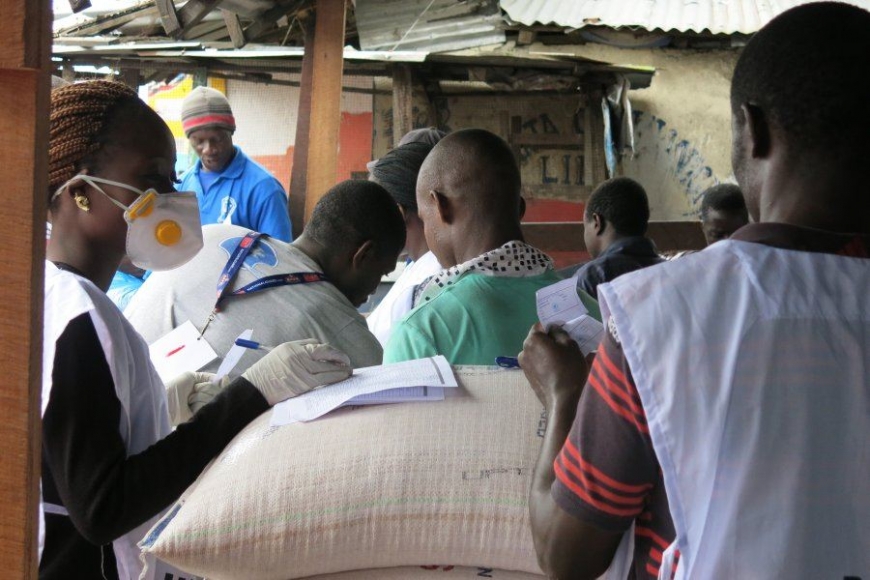 Taking measures to stop the spread of Ebola
WFP staff and local partners need to take increased health and hygiene precautions as they provide food assistance in Ebola-affected areas. The Ebola virus is transmitted by body fluids, including sweat.  Gloves are crucial, and some humanitarian workers also wear masks. Everyone is encouraged to wear long sleeved shirts to avoid skin contact.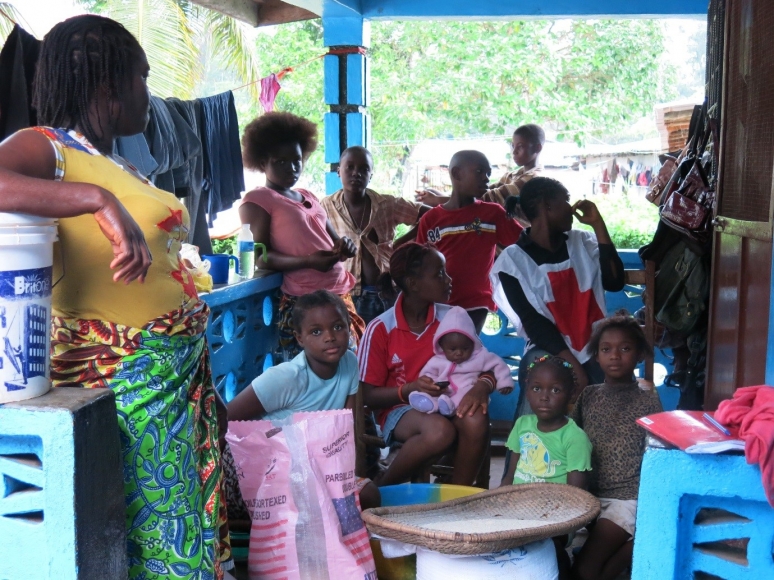 Children in quarantined Dolo's Town area 
Schools are closed in Liberia. And in the quarantined area of  Dolo's Town near the capital Monrovia, mothers are not taking any chances. Janet Koiwood does not let her kids run around playing with friends as they normally do but makes them stay close to home. WFP food rations are vital as supplies in her home and in the village dwindle due to restrictions on movement.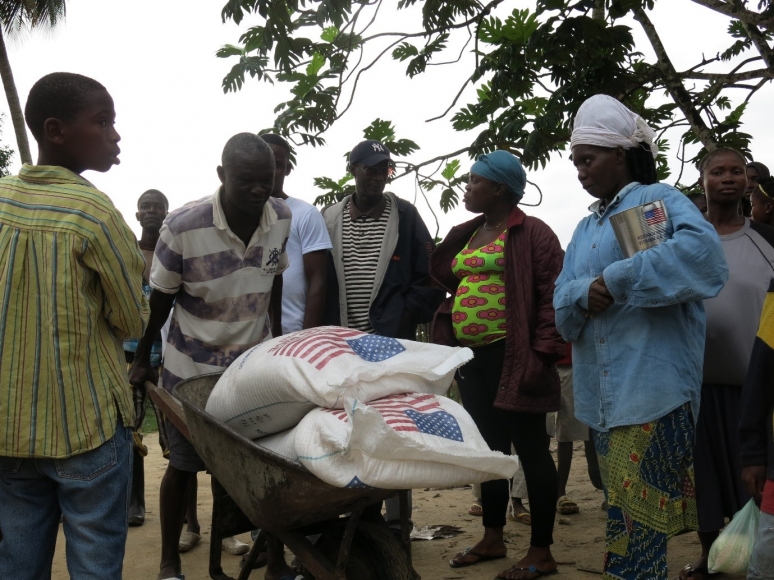 WFP food assistance distributed in Liberia's restricted areas 
Many Liberian families take their rations home in wheelbarrows as each of these bags of rice weighs 50 kilos.  Joseph T. Harris, father of six, has a job at a fueling station at the airport but is in one of the restricted areas so he cannot get to work. WFP has so far delivered food for quarantined communities in nine counties of Liberia for about 39,000 affected people.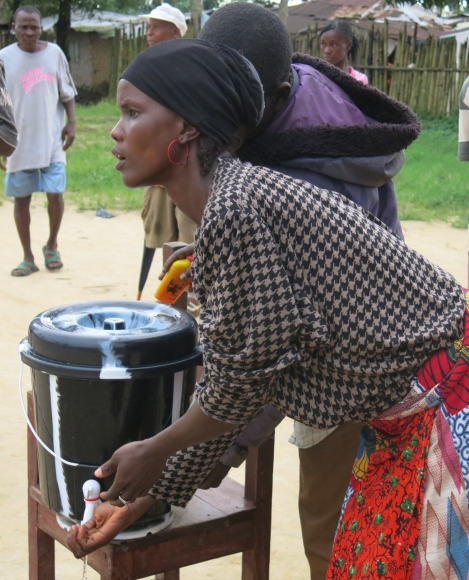 Handwashing
Handwashing is crucial to helping prevent the spread of the Ebola virus. Families and businesses have installed buckets with chlorinated water at the entrances to homes, shops and offices. All people receiving WFP food must first wash their hands thoroughly. People are encouraged to wear long-sleeved shirts when possible.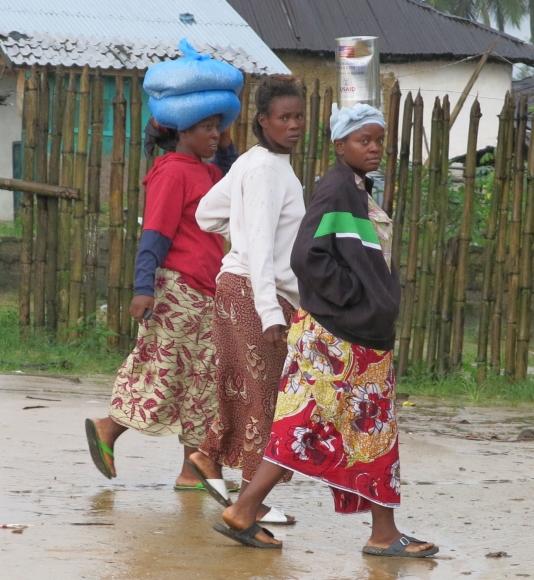 Women living in restricted Dolo's Town area 
WFP provides rations for families of five comprising yellow split peas for protein, oil for cooking and rice as a staple. Residents are not allowed to leave to go and buy food on the markets and there are no food supplies coming in. In other areas, prices of food are rising sharply on local market because of the disruption to trade.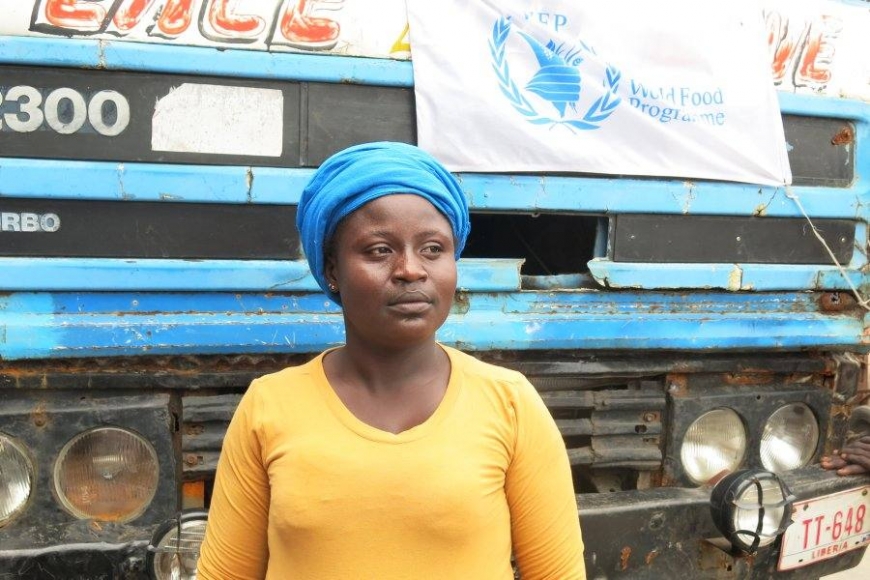 Residents fear losing their jobs
Veronika Coupo waits to pick up her rice, split peas and oil from a distribution in Monrovia. She has a job as a nanny in a wealthy suburb across town, but was unable to work because the West Point slum area where she lived was quarantined. She worries about losing her job and how she can support her three school-aged children.