Zanzibar's teenage girls are often expected to assist with cooking and housekeeping. But 15-year-old Aisha Bakary had a different idea of how to spend her time. As the oldest of nine siblings, she would find spare moments to turn up the volume on the TV or the radio, listening to lounge, house, afro and traditional taarab music.
Nearly 10 years later, 24-year-old Aisha has made music her career. "There are no women DJs here in Zanzibar, so I thought I could do something different and surprise the world," she says. Her unusual career path caught the eye of Women Future, who named Aisha Woman of the Year for 2019.
As Zanzibar's only female DJ, she hopes to inspire other young women to pursue their dreams.
"As a woman in Zanzibar, you are born, you study, you marry, you give birth and you die. I want to break that cycle. We are known for our amazing cultural roots and female artists like Bi Kidude and Siti Binti Saad. Zanzibar is for ladies," she says.
After she finished a course in computer science at Zanzibar University in 2017, Aisha worked as a presenter at the local radio station and as master of ceremonies at weddings. She intended to pursue journalism — until one of her friends introduced her to DJing. Zanzibar's local label, Stone Town Records, offered training in mixing songs, and Aisha soon learned to control the Dj mixer.
Aisha doesn't resemble the common image of a club DJ. She wears a hijab and an abaya, a traditional loose dress, as she carries around a DJ mixer to assignments at weddings, events and small festivals in her native Zanzibar and the Tanzanian mainland. Through music, she hopes to change conditions for women in Zanzibar.
In the Muslim majority archipelago of Zanzibar, women have traditionally remained at home, while men have been the income earners of the family. These roles are slowly changing, as women gain financial independence as seaweed farmers or learn how to sew and start their own businesses.
But a career in music is still off the charts. Often considered forbidden in Islam, instrumental music can be a divisive issue in Zanzibar, especially for a woman. Aisha knows this all too well.
"On my Instagram and Facebook profiles, there are people who comment that I shouldn't do this immoral work. It is because they haven't heard of a female DJ before. But they will come to know," she says with a determined smile.
Aisha insists on being both truly Zanzibari, a good Muslim and a successful DJ with international aspirations. When she recently played at a concert venue in Tanzania's largest city, Dar es Salaam, she was named "The Hijab DJ" on flyers. On stage she wore a matching red abaya and hijab while mixing a flow of dancehall, reggae and afrobeat to a swaying crowd.
"Muslim women can work with music or be fashion icons, because Islam is a matter of believing, not about clothes or jobs," she says.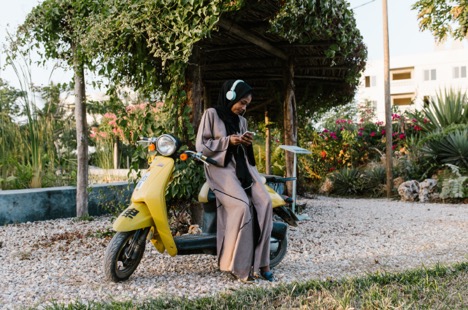 Although DJing is known to be a male-dominated field, a few African women have broken through the glass ceiling. Among these are the Ugandan DJ Rachael, who has founded the collective Femme Electronic to increase women's presence on the electronic music scene in East Africa. Aisha hopes to do something similar in Zanzibar. She has already initiated an informal training in Zanzibar's Stone Town for girls and young women to learn DJ skills.
"We need a new generation of female DJs. My mission is to motivate women to be what they want to be," she says.
While Aisha's image as the Hijab DJ spreads among Zanzibar's youth on social media, her career choice isn't well supported in her family. "My mum is quite religious, and she would say that it is bad to go to places with music and alcohol, which are both not allowed in Islam," she explains.
While Aisha's mother makes a living off selling rice, beans and soft drinks from a small eatery on the outskirts of town, Aisha hopes to provide for her through DJing.
"One day I will buy her a house and it will be from DJing," she says.