Written by Hanna Niepenberg
In Brussels, we kicked off 2020 with the focus on Gavi, the Vaccine Alliance, which proved to be a campaign even more relevant than expected! The coronavirus started to spread only a couple of weeks after the launch of our Youth Ambassadors Programme. The COVID-19 crisis immediately affected our lives. Very soon my university closed, together with all shops, museums and transportation of the city. But we, as Youth Ambassadors, didn't lose heart and decided to support Gavi's work with more and more enthusiasm.
An urgent and ambitious action to increase global health security was needed and we had one main message to deliver to the EU in this regard: this virus is affecting everyone, but will hit vulnerable people in poorer countries even harder. We need a vaccine, and it needs to be available soon for everyone, everywhere while keeping routine immunisation going on to avoid other diseases outbreaks. For this reason, the EU should invest €300 million in Gavi and ensure its life-saving work for the next 5 years is fully financed.
We did everything we could to get this message across and our voices were finally heard!
On 4th June, the EU announced a €300 million pledge, contributing to saving the lives of millions of kids over the next 5 years!
Do you want to know more about our recipe for success? Let's start from the beginning:
1. Getting familiar with the campaign
The campaign kicked off with a treasure hunt in the EU district which was the perfect opportunity for us, newly recruited youth ambassadors to get to know each other and get familiar with Gavi's work. After running around the city gathering signatures and posting social media content about Gavi, we had the chance to meet with the Managing Director of Gavi, Marie-Ange Saraka-Yao, who gave us an amazing insight into her work and allowed us to ask any pressing questions about the Vaccine Alliance's mission. Now, feeling more prepared and with a deep understanding of Gavi and its importance, we were ready to get this campaign started.
2. Gaining the support of the European Parliament (EP)
The next step was securing the support of the European Parliament. We decided to reach out to Members of the European Parliament (MEPs) who last year signed the ONE Vote pledge committing to achieve a world where no-one is left behind, at home or abroad. We start calling, emailing and tweeting at over 200 MEPs in 12 different languages. How did we manage that? Our group in Belgium is "special", we are 50 Youth Ambassadors from 17 different nationalities, speaking over 15 languages!
But let's go back to our action. We asked MEPs to sign a letter urging the President of the European Commission and the Commissioner for International Partnerships to fully contribute to Gavi. Although all MEPs were working remotely and thus more difficult to reach, we managed to secure over 60 signatures!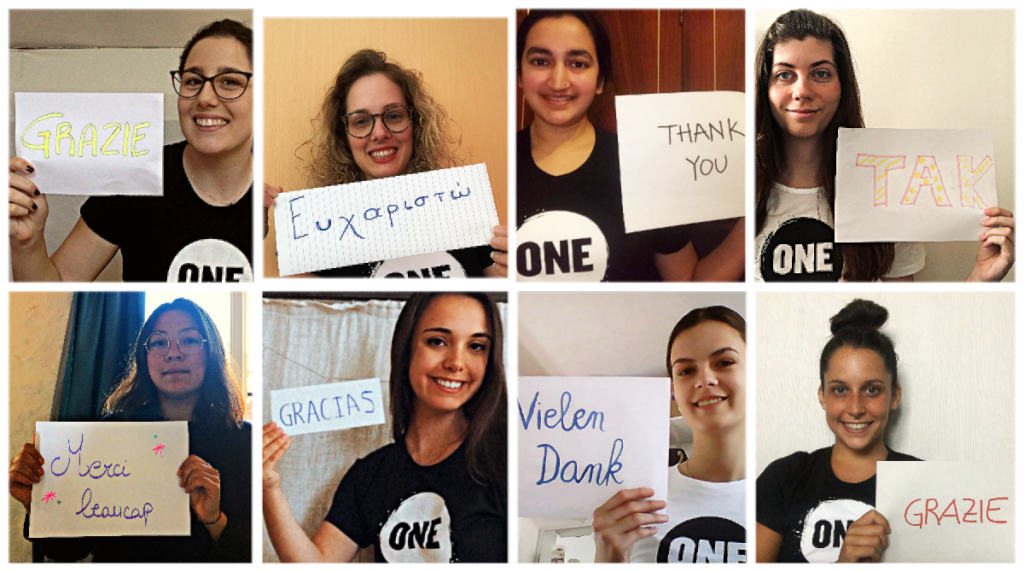 3. Lobbying from home
On a personal level, the time of our Gavi campaign was very challenging for all of us on very different levels. That's why we tried our best to stay connected and get through this together. An absolutely wonderful way to do that was by sharing the same messages at the same time! For example, we sent a gazillion of tweets to get President von der Leyen and Commissioner Urpilainen's attention to the letter signed by 60 MEPs. Hopefully, this convinced them to read it.
We also collected tons of signatures to the Gavi petition addressed at world leaders, sent tens of powerful messages to key decision-makers, and promoted ONE's Vaccinator quest game challenging each other and tweeting our best score on Twitter!
4. Celebrating our success and thanking our allies
How did we react to the announcement? By thanking the EU, of course, for pledging to Gavi and giving millions of kids access to life-saving vaccines. We're very proud of this pledge that will go towards helping Gavi vaccinate another 300 million children. That's why we want to express our gratitude in all our languages: THANK YOU, EU!