On Wednesday, Zimbabwe's Constitutional Court made the commendable decision to outlaw child marriage. This is a good first step in the right direction when it comes to achieving gender equality and eradicating sexist laws, which can severely limit a woman's progress by taking away their ability to make their own life choices.
The case was bought after two former child brides, Loveness Mudzuru and Ruvimbo Tsopodzi, took the government to court in an attempt to challenge the discriminatory nature of Zimbabwe's Marriage Act, because it set the minimum age at 16 for girls and 18 for boys.
In Zimbabwe, nearly a third of girls marry before they are 18, with 4 percent marrying before they're 15. Throughout the developing world, child marriage often exposes girls to domestic violence, cuts short their education, increases their risk of contracting HIV, and traps them in a cycle of poverty. Despite all of that, it is still seen as a culturally acceptable practice in too many places.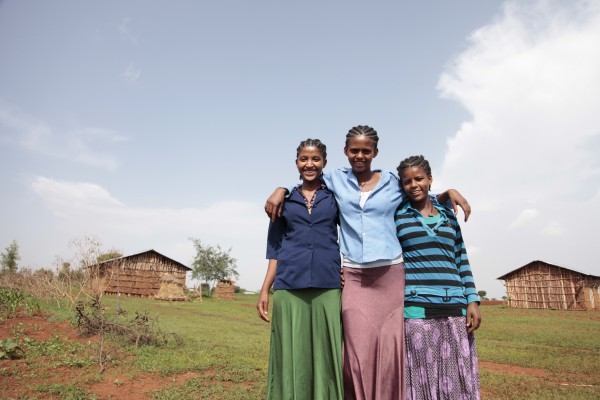 Fifteen-year-old Mantegbosh (far left) is now in school in Ethiopia—and unmarried—thanks to DFID support. (Photo credit: Sheena Ariyapala/Department for International Development)
This decision—to outlaw marriage to anyone under the age of 18—is especially relevant in the wake of the UNICEF report at the end of 2015 that predicted child marriages in the continent of Africa could double unless changes to laws are made.
Speaking to Thomson Reuters Foundation about the ruling, Mudzuru, who was married at 16 and had two children before she was 18, said, "I really am happy that we have played an instrumental part in making Zimbabwe a safe place for girls."
The court ordered that "No person, male or female, in Zimbabwe may enter into any marriage, including an unregistered customary law union or any other union, including one arising out of religion or a religious rite, before attaining the age of eighteen (18)." Creating a standard legal age of marriage between men and women is a positive step in the right direction. The Zimbabwean government must now work with local communities to enforce this law and work towards changing societal norms that approve of child marriage to ensure that girls in Zimbabwe have the same opportunities as boys.
"This is a great day for gender equality, women's rights and children's rights and the fight against poverty," commented Veritas, a local NGO which sponsored the application.
We know that Poverty is Sexist—raise your voice and help us tell world leaders to make more changes like this one.
Written with information sourced from Reuters.