Back in the 1960s, American author Margaret Mead wrote something that rings true for campaigners around the world.  We should "never doubt that a small group of thoughtful, committed citizens can change the world; indeed, it's the only thing that ever has."
Now, Margaret didn't know about the ONE Youth Ambassador programme but she pretty much nailed it.
We are looking to recruit a committed team of activists who can help us deliver fact-based activism to fight extreme poverty, powered by concrete evidence and driven by technology. The ONE Youth Ambassador programme is entering its third year and we're looking for passionate campaigners to join us for 2016.
You can apply HERE for the UK programme.
Need convincing? Check out these ten reasons to be a 2016 Youth Ambassador:
1. You *ACTUALLY* get to change things.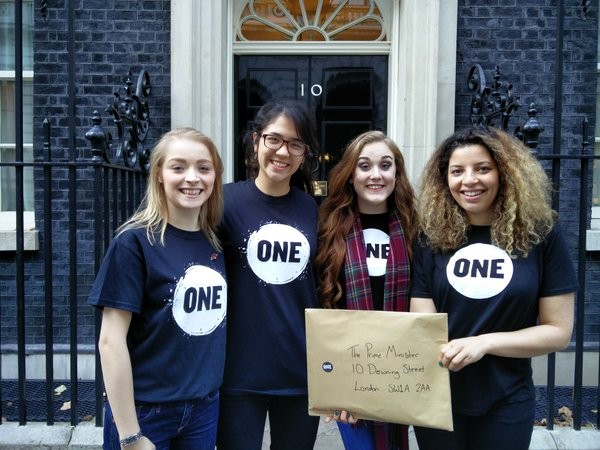 Youth Ambassadors don't mess around, they are here to make a real impact. Last year, Ambassadors helped convince over half the UK Parliament to commit to tackling poverty and investing more UK aid in the least developed countries. They also helped make the Global Goals famous in Belgium and helped ensure that the European Union aid budget for 2016 was protected.
2. You will meet 300 other like-minded people.
The Youth Ambassador programme is a Europe-wide movement operating in 7 different countries – the UK, Ireland, France, Germany, Belgium, Italy, and the Netherlands.
3. You get your voices heard by senior politicians and decision makers.
Whether it's the German Ambassadors meeting with Chancellor Angela Merkel, the Irish Ambassadors chatting with Tánaiste Joan Burton, or the Italian Ambassadors discussing global hunger with Prime Minister Matteo Renzi, we're getting our voices heard.
4. You'll see yourself in the media
You couldn't miss the 2015 Youth Ambassador programme – from the front pages of international newspapers to the pages of online blogs, we need to be seen to be heard.
5. You'll campaign on lots of different issues.
From tackling global corruption to securing funding to combat preventable diseases, like AIDS, TB, and malaria, 2016 is the year for change.
6. You'll get training and support throughout the year.
Every Ambassador will receive two days of training covering sessions on understanding the media, how to engage with decision-makers, and campaigning tips.
7. Your friends won't have to donate to support you.
At ONE, we're not asking for your money, we're asking for your voice. Your friends and family can support the cause by simply signing a petition.
8. You'll never go without a ONE t-shirt. Seriously.
We like to wear ONE t-shirts. A lot. No seriously, like all the time. They do look quite cool, so that's a bonus.
9. You'll be invited to exclusive events.
Campaigning can be tiresome work and it's always good to let your hair down. We host exclusive events with guest speakers which you'll be invited too.
10. It's *SO MUCH* fun.
We may be talking about serious issues but we want to have fun doing it. Some Ambassadors have enjoyed the programme so much they've returned every year!
What are you waiting for?