Written with Nachilala Nkombo
Earlier this month, African heads of state, business leaders, civil society, and farmer organisations reaffirmed their commitment to transform their country's agricultural sectors in Abuja, Nigeria during the second annual Grow Africa Investment Forum. ONE's Africa Director Dr. Sipho Moyo presented leaders with a petition from over 600,000 African citizens asking them to keep their promises to invest in agriculture and Africa's bright future.
Heads of state from Benin, Cote d'Ivoire, Nigeria, Rwanda and Tanzania discussed how Grow Africa – a partnership between the African Union Commission, the New Partnership for Africa's Development (NEPAD) agency, and the World Economic Forum – has fared over the past year. The proposition made by Grow Africa – that private sector acceleration in agriculture can lead to poverty reduction for Africa's smallholder farmers – needs to tested.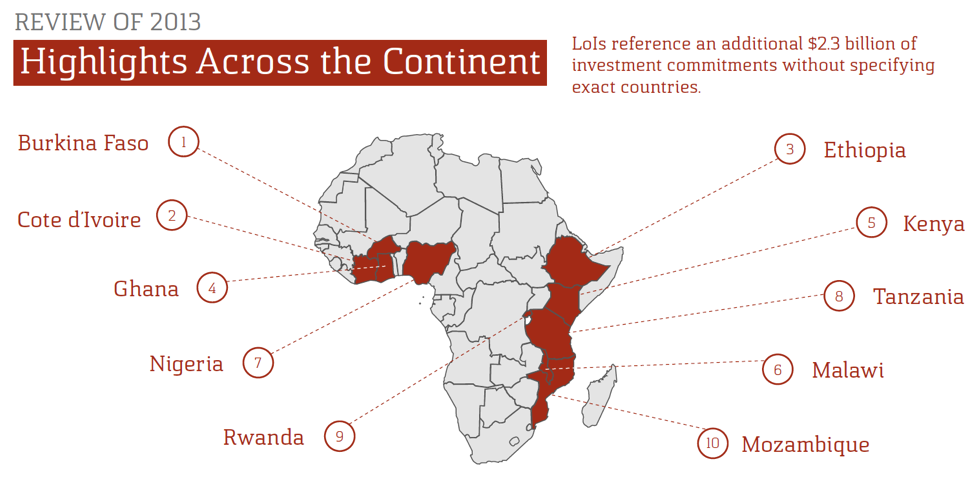 President Kagame of Rwanda spoke of his country's success using agriculture as a vehicle for wealth creation,which Rwanda achieved through land consolidation, crop intensification, extension services, and organising smallholder farmers.
After its second year in business, it's a good time to reflect on our original question:
Has Grow Africa changed the game for African farmers and businesses?
While it's still too early to tell, we provide some key insights on Grow Africa's promise, challenges and its future.
Promising News
Grow Africa's unique and innovative model as a connecter and bridge between sectors has elicited good results in its second year:
– $970 million of investment made in 2013
– 80% of investments are on track
– 2.6 million smallholder farmers were reached through new services, sourcing, contracts or training
– 33,000 jobs were created
At the country level, Ethiopia, Nigeria, Rwanda and Tanzania scored well on "leadership and alignment" and "strategy setting". These countries exhibited strong leadership and vision at the highest levels of government and established coordinating agencies to help investors navigate regulation and identify the most promising value chains and regions in which to invest.
Early Challenges
Despite progress, dependence on government policy reforms, existing challenges related to the gender gap in agriculture, and perceptions of land grabs has limited Grow Africa's impact.
Policy reform: Most countries have made steps to reform, such as remove trade restrictions and facilitate land for investments. However, the game-changing policy reforms (e.g. access to credit, extension services, infrastructure development) most beneficial to smallholder farmers haven't moved forward.
Gender: Early signs show that Grow Africa's intended beneficiaries are not being reached equally. Men are benefiting more than women: 58% of new jobs are held by men and 79% of smallholder engagement is with men. Acknowledging this, AU Deputy Chair Erastus Mwencha called for effective affirmative action for women who work in agriculture and agribusiness.
Land: An investment by Agro EcoEnergy in Tanzania, a country with relatively low population density and 44 million hectares of arable land, faced "land grab" accusations during its involuntary resettlement process. Grow Africa claims the accusations came from false claimants supported by competitors and land speculators.
The Road Ahead
Grow Africa faces the challenge (and opportunity) of attracting sufficient financing and infrastructure investment to ensure that investors are helping smallholder farmers become more competitive. An estimated $11 billion of investment is needed in financing each year to improve transport, power and irrigation that can unlock significant benefits to agricultural production and further financing is needed to enhance agroprocessing activities that create jobs and wealth.
It's clear that the private sector cannot do this alone – governments must recommit to public investment and civil society must hold Grow Africa accountable to its goals.
To harmonise itself with CAADP, Grow Africa must place a stronger focus on strengthening CAADP implementation at the country level in order to create win-win outcomes for farmers and investors. For Grow Africa to change the game for farmers and businesses, government leaders need to join the team.