This piece was originally published on WFP USA's website 
What can you buy for $1.50? A bottle of soda? A pack of gum? Four stamps?
For nearly 1.2 billion people around the world, one dollar and fifty cents is all they can afford to spend on daily meals. That's more than the populations of the United States, the European Union and Canada combined.
So this spring, we're calling on our supporters to take the Live Below The Line Challenge and show their commitment to ending poverty and hunger. What does that mean exactly?
That means from April 28 to May 2, you pledge to eat and drink on less than $1.50 a day to raise funds for the WFP USA team and help us spread us the word about the reality of poverty. We'll provide you with meal plans, tips and an online fundraising toolkit that you can share with your friends, family and community.
By signing up to take the challenge with the World Food Program USA, you will be raising awareness and crucial funds the United Nations World Food Programme provide school meals to kids in the world's poorest countries, including children like Yvonne in Nairobi.
It costs just 25 cents to fill one of WFP's signature red cup with nutritious food, like rice and beans. Just $250 equals 1,000 school meals for children all over the world. School meals have the power to break the cycle of hunger and poverty by giving children the chance to learn, grow and reach their full potential.
This year we want the Live Below the Line campaign to be bigger than ever. The more awareness and funding we can raise, the closer we can get to ending extreme poverty and hunger. It really is that simple.
Below are some tips to help you get ready!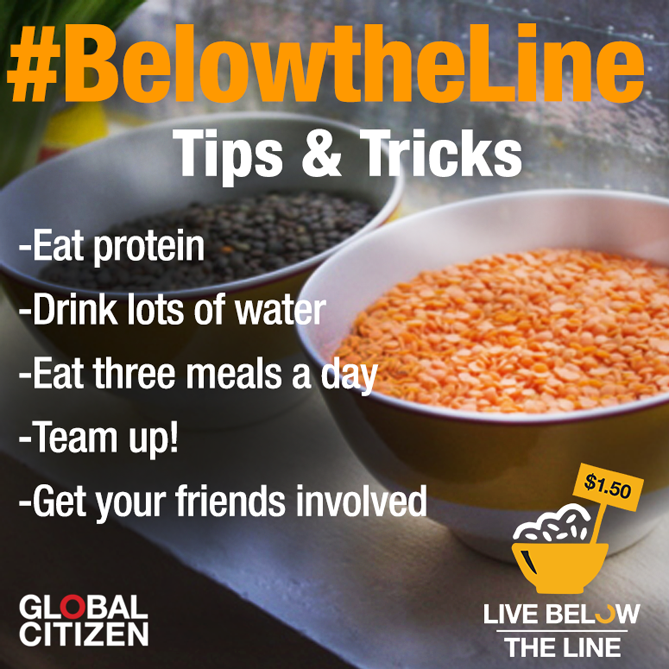 Sign up for the Live Below Challenge and be the generation to end hunger.