A roundup of the latest news, stats, and analysis of COVID-19's impact in Africa. View our data tracker and sign up for our weekly newsletter, and read on for how the pandemic is affecting food security and social unrest in Africa, the disappointing outcome of this week's G20 meeting, and Africa's "vaccine revolution."
Top news
Fallout of COVID-19 pandemic causes spike in world hunger
Critical juncture: The COVID-19 pandemic has caused a dramatic worsening of world hunger – in 2020, just under 10% of the global population was undernourished, up from 8.4% in 2019. A UN report on the state of food security and nutrition in the world found that Africa saw the sharpest rise – at 21% of the population, Africa's rate of undernourishment is more than double that of any other region in the world. The heads of the five UN agencies, which published the report, said that the world is at a "critical juncture," warning that urgent action is needed to eliminate hunger and malnutrition by 2030.
Restless: Pandemic-driven social unrest is on the rise globally, including in Africa. The IMF warned this week that frustration over governments' handling of the crisis, as well as mounting inequality and corruption, could lead to "a new wave of unrest" that could hinder the recovery from the pandemic, especially in developing countries. The IMF's findings come just as Nigeria reported that the pandemic has worsened the security situation in the country, as 100 people have been killed during a nationwide lockdown. Nigerian Minister of Interior, Rauf Aregbesola, attributed the killings to the frustration caused by job losses and restrictions. Sadly, there's no end in sight to the lockdown measures, as Nigeria's Lagos state faces a "potential third wave" of infections.
Unprecedented violence: More than 70 people have been killed in South Africa and over 1,300 arrested amid riots and unrest triggered by the jailing of former president Jacob Zuma. The health ministry warned that the country's vaccination rollout and other essential healthcare services have been severely disrupted, with reports of clinics unable to get supplies of oxygen to treat COVID-19 patients. There are also reports of an impending food shortage, as retailers have lost up to $340 million to looting and farmers struggle to produce and harvest. The violence intensified this week despite calls for calm from President Cyril Ramaphosa, who said the scale of the unrest is unprecedented in the 27 years since the end of apartheid.
Humanitarian crisis: Ethiopia's Tigray region is facing a "serious humanitarian crisis," as civil war between the government and rebels in the region has left more than 900,000 people facing famine. A ceasefire announced by Prime Minister Abiy Ahmed failed to bring peace, and the conflict continues to escalate. Meanwhile, the Ethiopian Ministry of Finance announced it is in negotiations to restructure an additional $1 billion of debt to free up funds to support the country's recovery. In January, the government requested to rework its debt under the G20 common framework.
Baffling: If you were hoping that the G20 meeting in Venice this week might produce a plan to end the pandemic, you'll have been sorely disappointed. Finance ministers and central bankers from G20 nations failed to agree on a viable plan for global vaccine distribution and production, a fact described by one development advocate as "baffling." Instead, the final communiqué contained only vague support for collaborative efforts on vaccines, diversifying vaccine manufacturing capacity, and strengthening health systems. To be fair, some progress was made around debt relief and the fiscal response to the pandemic, including support for the IMF plan to issue $650 billion in Special Drawing Rights.
Catastrophic "leadership:" The UK Parliament this week voted to end the government's legal commitment to the 0.7% aid target, a "catastrophic" decision for vulnerable communities around the world. The move is yet another blow to the UK's reputation among the international community (not to mention among your Aftershocks authors). The void left by the UK cuts will be partially filled by "emergency funding" from a group of philanthropic organizations, including the Bill & Melinda Gates Foundation, to help save "critical projects." Former PM John Major said the Government "should be ashamed of its decision," adding "it is the stamp of Little England, not Great Britain."
Double jeopardy: People living with HIV are facing a "double jeopardy" of HIV and COVID-19; they are at much higher risk of developing severe COVID-19, but the vast majority are denied access to COVID-19 vaccines. The UNAIDS Global Aids Update 2021, launched this week, found that during the pandemic, many low-income countries have been unable to allocate additional resources to their health systems, meaning more people are being denied access to life-saving HIV treatment; up to 800,000 children living with HIV are not on the treatment they need to keep them alive.
Lost potential: The COVID-19 pandemic has pushed millions of vulnerable children around the world into child labour. A report by the International Labour Organization and UNICEF found that progress in the fight against child labour has stalled for the first time in two decades, with up to 8.9 million more children forced into work as a result of the pandemic. In Malawi, more than 38% of children aged 5 to 17 are in child labour. Child rights activists in the country have struggled to combat the growing problem due to lockdown measures and decreased funding. Apart from the fact that many of these children work in hazardous, exploitative conditions, most can't attend school, which has severe effects on their future prospects.
Vive la révolution: African countries are planning a "vaccine revolution," with several working to increase local production of vaccines. The African Union aims for 60% of vaccines needed in Africa to be produced locally by 2040, as the COVID-19 pandemic has laid bare that Africa cannot rely on vaccine imports. Currently, only 1% of all vaccines (not just for COVID-19) administered on the continent are locally produced, and only Tunisia, Algeria, South Africa, and Senegal have active production facilities. Experts warn that it will take several more years before African countries are ready to manufacture vaccines, meaning this won't offer a fix for the COVID-19 crisis.
Turned away: Zimbabweans who queued for five kilometres outside of a major hospital in Harare in hopes of receiving a COVID-19 vaccine were told there were no jabs to be had amid severe shortages in the country. Zimbabwe is one of 14 African countries where the Delta variant is surging dramatically, with confirmed cases rising by over 1600% in the past month. To date, only 3.7% of Zimbabwe's population is fully vaccinated, and the country has reimposed strict lockdown measures to combat the surge.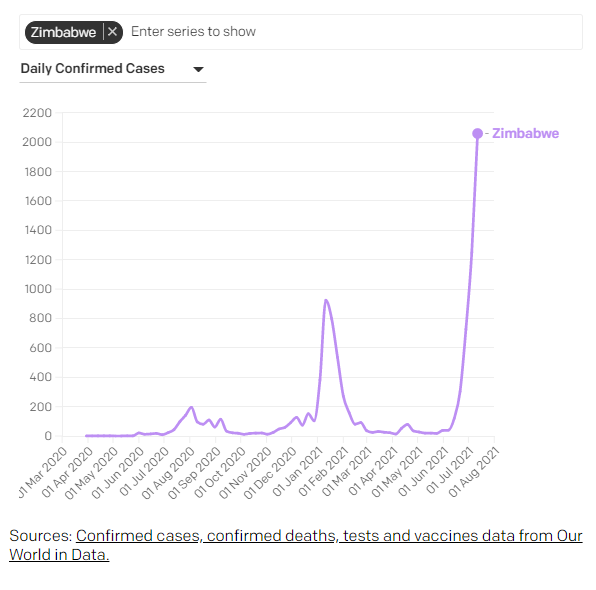 Catching up: Senegal is to construct a facility for manufacturing COVID-19 vaccines, bringing the continent one step closer to locally producing vaccines. The initiative is part of the Team Europe initiative announced in May to boost vaccine manufacturing in Africa and reduce the continent's 99% dependence on vaccine imports.
Shots incoming: UNICEF is to provide up to 220 million doses of the Johnson and Johnson COVID-19 vaccine to African Union Member States by the end of 2022. Under the agreement signed this week between UNICEF and Janssen Pharmaceutica (owned by J&J), 35 million doses are to be delivered by the end of this year, followed by an additional 180 million doses next year. Meanwhile, the government of Canada is to donate almost 18 million doses of the AstraZeneca vaccine to low-income countries, but the country is also planning to stockpile millions of surplus doses of mRNA vaccines for potential booster shots for its own population.
United in adversity: African leaders came together this week to support an ambitious replenishment of the International Development Association (IDA), which will provide funding to support Africa's recovery from the pandemic. Africa is IDA's biggest beneficiary, with 39 countries. The gathering, hosted by President of Ivory Coast, Alassane Ouattara, adopted the 'Abidjan Declaration' which called for at least $100bn to accelerate economic recovery from the pandemic and create jobs.
The numbers
41,684: Average daily number of confirmed cases in Africa in the week to 14 July, 27% higher than the previous peak reached in January. (ONE COVID-19 Africa Tracker)
836: Average daily number of confirmed deaths in Africa in the week to 13 July, an increase of over 140% from last month. (ONE COVID-19 Africa Tracker)
282 million: The number of people in Africa who are undernourished, over a third of all undernourished people globally. (WHO)
Other reads