It has been a busy month in the ONE Africa office with the team partnering with civil society organizations in Nigeria, South Africa, Tanzania, Zambia, and Zimbabwe to get more voices and recommendations for the heads of state on the challenges women face on the continent. Throughout May, ONE Africa went to various countries to present the poverty is sexist campaign to civil society, policy makers and the African citizenry.
To me, these policy forums gave voice to African citizens to share their challenges and make recommendations for change. What came out from these policy forums is that the challenges women face are real and it is about time the world's attention refocused on the gender discrepancies that exist in our society if ever we can eradicate extreme poverty.
Here are some of the key issues raised in the various countries:
In Nigeria the main message was on inclusion and transparency. Women wanted to know what resources were allocated to them and how these are being spent. They want to see female technocrats appointed to the ministry of women's affairs to ensure that women's issues are better engaged. The Nigerians also want an all-encompassing national policy on women that will be embedded in all decision making across the country.
When the ONE team went to Tanzania, the conversation centered on land ownership and access to information. The women in Tanzania want to get information translated to Swahili so that they fully comprehend the information being shared to them and be able to use it. There were also concerns that in some sectors of the society, women were still not fully empowered to make decisions on land issues. The participants also recommended better collaboration between the ministry dealing with women and gender and other ministries such as the ministry of land to ensure that the challenges women face are better addressed. Tanzanians also called for amendments to laws which govern the country. An example given was the Marriage Act, which allows a girl to be married at the age of 15 years while the Youth Policy and the Constitution understands a person under 15 years is a child and cannot make sound decisions.
The discussion in Zimbabwe, brought with it glaring examples on the inequalities which exist between women and men in the workplace. One of the participants highlighted how in the informal sector, gold panning done almost strictly by men had been upgraded to artisanal mining status and yet other informal activities which women dominated have remained unrecognized, showing how women's contributions remain undervalued in the economy. There was also reference to the medical field, where nurses in public hospitals and clinics, who are predominantly female, earn $3 a month as night allowance while doctors, who are predominantly male, earn $400 a month as night allowance. The President of the Senate also called for a data revolution that she believed would go a long way in ensuring that governments would have a case to argue from in discussions for financing and funding.
From Zambia, ONE found that women are facing numerous challenges especially those involved in the informal trade such as cross border trading. Presentations were made on how women had been forced to compromise their position as they tried to get goods across the borders. The Zambia policy forum also brought the discourse of the regional protocols which countries have signed on gender but which had not been put into practice at the domestic level.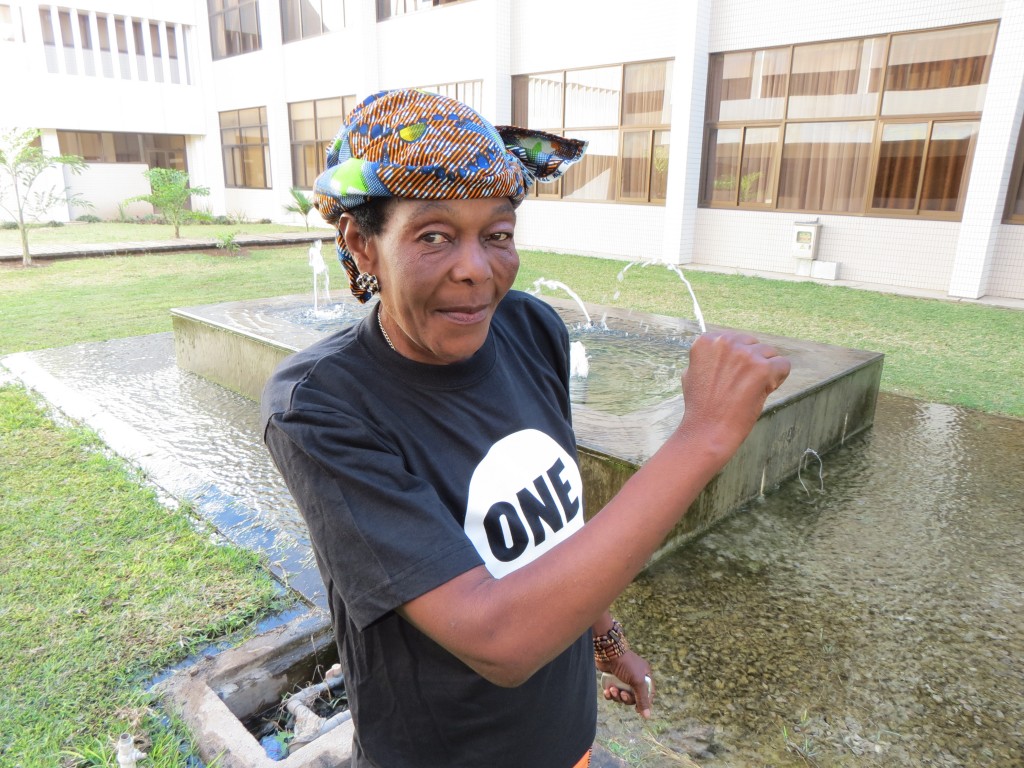 There were also themes that cut across countries. For example, women in all the countries wanted access to good health care. They wanted more information on the opportunities that exist in their countries and wanted to know what their governments had agreed to do so that they could ask questions. African citizens want access to good education and equality for all people who live in the different countries. Women demanded equality and inclusion in the policy-making processes and for men to become more involved in the issues that affect women in order for these issues to be successful. After the policy forums, I appreciated even more that the continent still has a long way to go in addressing poverty as it relates to gender.
Add your voice to this call; stand with girls and women everywhere by demanding that world leaders commit to ending extreme poverty through policy interventions that can unlock the full potential of millions of girls and women!
Add your voice to ensure heads of state act on the challenges women and girls face on the continent. Sign our petition!