For this World AIDS Day, ONE agriculture expert Kelly Hauser highlights four stellar agriculture programs that are working to improve the incomes and nutrition of people living with HIV and their families.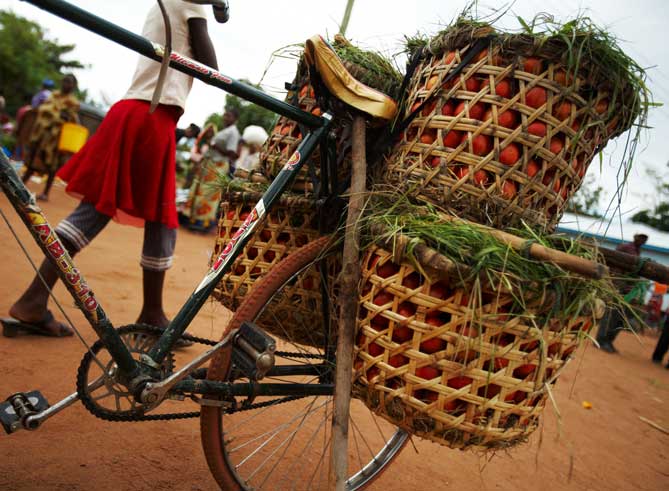 I'm no HIV/AIDS expert, but I know that it's incredibly hard for people living with HIV and their families to rise out of poverty for many reasons: decreased productivity as a result of being sick, stigma and discrimination, or the death of family members who would have helped young people to learn a trade. Agriculture, which is a source of income and food for two-third of Africans, and nutrition, which is key to getting well, staying well and being productive, are intricately linked to poverty in Africa.
Thus, for World AIDS Day, I'm highlighting four programs that address both incomes and nutrition of HIV-affected people in Africa: a village poultry project in Mozambique, a horticulture growing association in Kenya, a permaculture training program for orphans in Malawi, and hospital gardening in South Africa.
Kyeema Foundation: The Kyeema Foundation's Village Poultry Project is working with women in Mozambique who are both farmers and caregivers for family members with HIV/AIDS. Kyeema is working with the women to help them raise chickens – which provide nutritious meat, eggs and fertilizer. Chicken farming is a great option for these burdened women since chickens, which eat insects and kitchen scraps, are relatively easy to raise and they provide a much-needed source of protein for sick family members, who require more protein than healthy family members.
Chepterit Horticultural Growers Organization: This organization is made up of Kenyan women living with HIV who are working together to increase their incomes. The US government's global food security initiative, Feed the Future, helped the organization set up a passion fruit nursery, taught them about drip irrigation and sustainable pest control, and linked them to a reliable market. Last year, the nursery sold $16,000 worth of seedlings and 7,500 kilograms of passion fruit. Many members are now saving money and several joined together to purchased land to expand their farming. "This project brought hope back into our community," Irine Zippy Kalamai says. "I now believe that if farmers can easily access quality seeds, they will have a better yield and ultimately high incomes."
Permaculture for Orphans and Vulnerable Children: Worldwide, 16.6 million children have lost parents due to HIV. In losing their parents, most of these children also lose their access to farming knowledge. Feed the Future is working to counteract that by teaching permaculture, a type of sustainable agriculture that includes eating nutritious and local foods, to orphaned and vulnerable children in Malawi and elsewhere. Permaculture emulates natural ecosystems while providing food for consumption and sale, creating a self-sustaining system that is quite different from the monocropping of industrial agriculture. In the backyard of the Malawi program managers, children learn about nutrition and how to intersperse trees and indigenous crops, raise bees to pollinate, recycle used kitchen water and compost toilet waste to help fertilize crops. Not only are they learning to make a living, they are also learning to live healthier.
GardenAfrica: GardenAfrica is a UK-based organization that works with the organization South Africa HIV to train HIV patients to garden and supply them with healthy foods. They work behind the courtyard walls of clinics and hospitals to maintain training gardens, where patients learn and grow food. Participants learn about organic gardening, irrigation, nutrition, medicinal plants and new styles of cooking. They take home vegetables and starter packs with instructions and seeds for tomatoes, spinach, chard, broccoli, cabbage and many other vegetables and herbs.
These are only a few of the programs out there, but around the world nutrition and self-sustaining agriculture are making people stronger and healthier in the fight to end AIDS and extreme poverty.