The ONE Africa Award honours outstanding African organisations leading the fight against poverty and preventable disease. This year's focus is Quality Education (Sustainable Development Goal 4).
We received hundreds of amazing entries from civil society organisations and non-governmental organisations working to build a better future for their communities.
Congratulating the ten finalists, ONE's Africa Executive Director Rudo Kwaramba-Kayombo said: "we are excited to announce this year's top ten finalists. Education is a key component to fighting extreme poverty, particularly given that 53 million girls are out of school in Africa."
The Award will be presented to the winner at the African Union 'Innovating Education in Africa Expo' on 6 October in Dakar, Senegal.
Here are the finalists competing to win the $100,000 cash prize!
Dext Technology Limited – Ghana
Practical science for every student
Challenge: Science is taught in the abstract. Teachers explain the theory with no practical experiments. Making it difficult to inspire a passion for science among primary and junior students.
Solution: The Science Set is a mini science lab that contains materials to enable pupils to carry out basic experiments. It is small and affordable, so science can be taught through practical demonstration.
Grandmother Project – Senegal
Teaching positive cultural values
Challenge: The southern Kolda Region has some of the lowest school enrolment and attendance rates in Senegal, particularly among girls. Family support for schooling is limited, partly because parents feel children are not taught cultural values and knowledge.
Solution: Culturally relevant education strengthens community-school relationships helping children succeed. Teacher training workshops, culturally relevant teaching materials, storytelling contests and involving grandmothers and parents in education are just some activities. Supported by community events such as intergenerational forums.
Kamer Big Bang (EduClick) – Cameroon
Virtual education platform – low cost and accessible
Challenge: High rates of academic failure, unemployment and under-employment – many University graduates work in low-skilled jobs. Due in part to a rigid education system focused on theory, instead of practical skills and entrepreneurship. Thousands of young people, displaced by conflict in Southern Cameroon, can't access education.
Solution: E-learning centre with thousands of skills-based courses; e-revision for students to practice exams via thousands of multiple-choice questions. And, education centres in refugee and displaced camps giving access to the school curriculum via audio learning (French and English).
Mavis Computel Limited – Nigeria
Talking Book technology delivers education
Challenge: 400,000 more primary school teachers are needed by 2030. Shortages are worse in rural communities with less attractive pay and conditions. A lack of learning materials in English and local languages compounds the problem.
Solution: Multi-lingual, high-quality educational materials including interactive games and quizzes. Using a digital pen, pupils touch words or pictures to hear an audio description. Pupils learn alone, or with up to 5 others – with minimum supervision needed, teachers can facilitate many groups.
MOBILELABO – Togo
Mobile laboratory brings science to life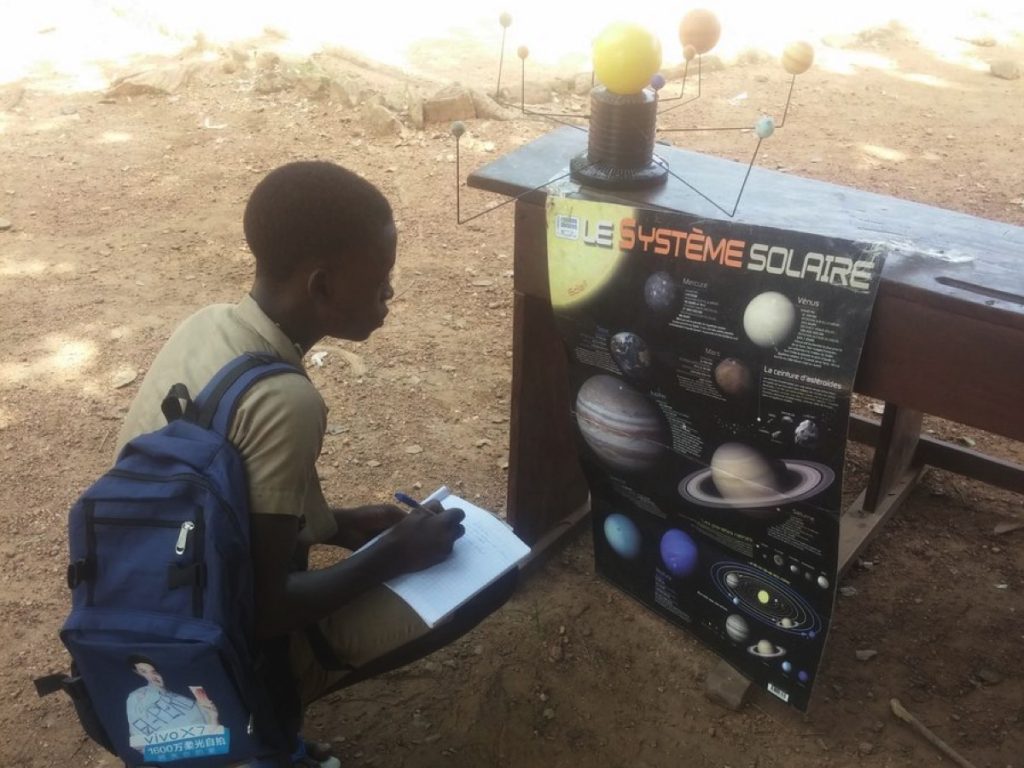 Challenge: More than 80% of Togolese schools don't have a science lab or equipment to perform practical experiments. Many schools have the will, but not the funds to invest.Solution: Mobile learning centre visits schools, villages and other public places to strengthen teaching and awareness of science and technology, particularly among young girls. Working with lab technicians, the mobile lab enables students to do practical experiments in chemistry, physiology, electronics, geometry and much more. Sparking interest in the sciences.
Nal'ibali Trust – South Africa
(Nal'ibali "here's the story" in isiXhosa)
Fun stories to promote the joy of reading
Challenge: Almost four in five Grade 4 pupils fall well below internationally recognised reading levels.
Solution: A national reading-for-enjoyment campaign. Inspires children to fall in love with storytelling and reading. Gives them access to local language reading materials and role models. Builds awareness that reading supports educational achievement and helps students reach their potential.
Phenomenom Technologies – Zimbabwe
Virtual Reality school trips
Challenge: School field trips are a fun and effective way to encourage students to learn. But most schools, especially in rural areas, lack the necessary funding.
Solution: Virtual reality excursions give students the chance to explore new places from the classroom. They can experience science laboratories, national places of interest such as Victoria falls or, even go deep inside a mine. By bringing learning to life, students are more engaged and motivated to learn.
SEEDS LearnShare – Madagasgar
Teaching soft skills in innovative ways
Challenge: It takes more than 'hard' skills (such as maths, English or computer programming) to succeed. 'Soft' skills (such as communicating, problem-solving or creative thinking) are also essential for personal and career development, particularly for budding entrepreneurs.
Solution: Training and events support students and professionals to develop soft skills. Workshops take place at a fully-equipped training centre, and hands-on training sessions are delivered at schools, universities and businesses.
Société de Prestations Educatives – Democratic Republic of Congo (DRC)
A complimentary approach to teach entrepreneurial skills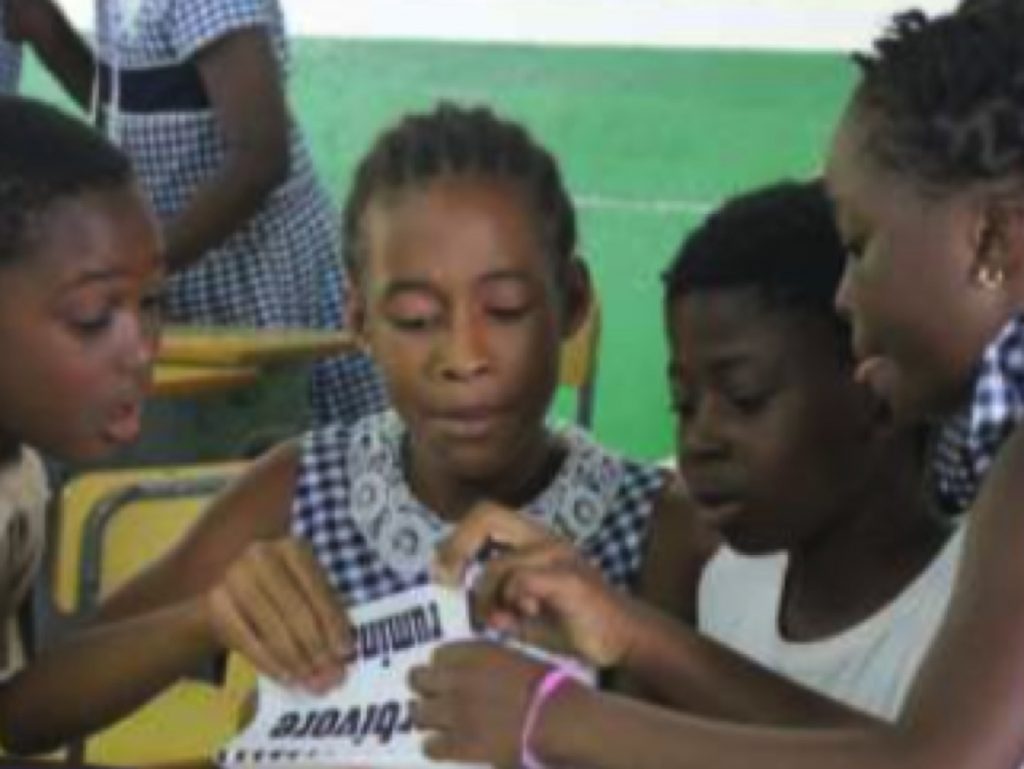 Challenge: Youth unemployment is high across Africa. In response, governments have tried to boost entrepreneurship. But with little success. Partly because education systems do not promote the culture or qualities needed.
Solution: LIND teaching approach strengthens learning by putting lessons in context (What do students know already know? How do they best learn? Etc.). Often working in groups, students learn valuable skills such as how to develop a business plan, as well as how to network, research and problem solve. Creating an environment in which students discover their potential and thrive.
Ubongo Learning Ltd – Tanzania
Edutainment – fun, localised, multi-platform content
Challenge: School systems across Africa are struggling, and families have few informal learning resources outside of school. In Tanzania, schools are overcrowded, the education system is rote and rigid and, students are unmotivated.
Solution: Leveraging the power of entertainment, students learn from content adapted to the local context and language. Animated TV series, android apps, eBooks (with linked TV broadcast so viewers can 'read along' while they watch) and, a music album with educational songs. Using existing technology (TV, radio, mobile and the web), content is  accessible and simple to use.