As you know, ONE and (RED) launched the vibrant and inspiring (2015)QUILT, a digital patchwork quilt designed to bring people together at this critical juncture in the fight against AIDS, last year on World AIDS Day. After more than 30 years of battling this devastating disease, we know how to limit its spread, treat its symptoms and effectively eradicate its presence from the planet. To date, more than 51,000 of you have shown your support by creating your very own panels. They stand as a testament to your dedication and to the nearness of an AIDS-free world.
But things weren't always so hopeful. The (2015)QUILT, which draws its inspiration from a physical quilt called the AIDS Memorial Quilt, is the brainchild of Cleve Jones, a prominent gay rights activist from San Francisco. At a 1985 march honoring slain San Francisco Supervisor Harvey Milk and Mayor George Moscone, mourners recorded on placards the names of city residents lost to AIDS. They then mounted the signs onto the walls of the Federal Building, blanketing the sides with their tributes. When Jones stepped back to admire their statement, he saw a quilt.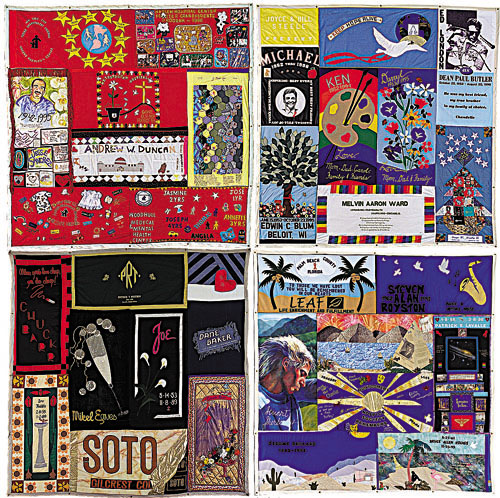 His vision became a reality through the NAMES Project Foundation. The organization encouraged people to create quilt panels commemorating loved ones lost to AIDS and send them to the San Francisco office. Within two years, nearly 2,000 people around the country had sent their panels to California, where they became something more than the sum of their parts. The quilt provided an opportunity for collective grief and healing in a world that was largely intolerant of people with HIV.
In the 20 years since its inception, the quilt has continued to grow, serving as a tool for raising awareness, eliminating stigma, and inspiring action. At 54 tons, with more than 47,000 panels dedicated to twice as many individuals, the massive memorial is the largest piece of community folk art in the world. But it's time for the quilt to stop growing. The tally of lives lost is high — but so is the number of people dedicated to making this disease history. Now.
If you haven't made a panel yet, you can still add your colors to the 2015(QUILT). Create, browse, admire and be inspired!