A Tale of Two Farmers

ZAKIA's STORY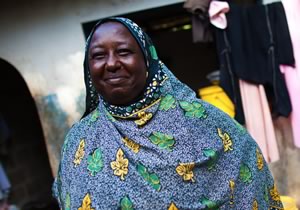 A few years ago, Zakia and her fellow female farmers on the island of Zanzibar wondered why the expensive seed they bought was barely producing enough to feed their families, much less to sell for profit. It was frustrating. The work was long and arduous and they could never seem to get ahead. That is, until a couple of years ago when they began to learn new farming practices and obtain funding for refrigerated storage to keep their vegetables from spoiling, thanks to donor investments in agriculture and food security.
Now, rather than simply tossing those expensive seeds onto the ground, they till the earth, plant the seeds and nurture them into row after meticulous row of gleaming eggplants, tomatoes and beans. They grow different crops during different seasons. They have built a water tank and the new irrigation lines snake throughout the fields. They make their own insecticides using ginger, hot chilies, garlic, neem leaves and cloves. They have constructed a charcoal-lined storage shed to keep their produce fresh until it can be taken to market. They have joined a co-operative where collective bargaining gets them a better price for their crops.
They still work long and hard hours. Up at 5.30am for prayers, they then head into the fields for the day, stopping only around mid-morning for breakfast. But it has all paid off.
Their income has increased so dramatically that they have bought a box with a lock and started their own community bank. They are reinvesting in their farms and are sending their children to secondary school. They are all eating more and better. Now they are even thinking of buying some livestock: chickens and perhaps a cow or two. They have begun to save for cages to prevent people from stealing new chicks, a chronic problem with traditional mud chicken huts. But once they have livestock, not only will they be able to sell the eggs and milk but their families will have access to more protein and they will no longer need to purchase manure for their fields.
All of this is living proof that when you teach a woman to farm, an entire community prospers.
DONATA's STORY


At the Chitsanzo Milk Bulking Group in Malawi, just one cow can turn around a family's life. A single dairy cow has the potential to raise a farmer's income six-fold per year, from the national average of $250. With an income of just $250 per year, the average smallholder farmer is living in extreme poverty – on less than $1 per day. It might be hard to imagine that one cow could make such a transformative difference in a family's life, but it is happening every day.
Donata Kuchawo is a 45-year-old married mother of five who also looks after two orphans. Donata turned to dairy farming because growing maize and beans alone wasn't enough to provide for her family. The milk bulking scheme works as follows: donors provide cows to members of the group and, when calves are born, those farmers give their female calves to other members. Members also learn how to pasteurise, cool and bulk their milk together so that they can negotiate higher prices from local distributors. In addition, raising a dairy cow helps save on fertiliser costs for maize and bean crops. Donata hopes to get a female calf from her pregnant heifer. If it's a girl, she will be passed onto the next family on the waiting list and the virtuous cycle will continue.
As a result of her income, Donata has built a home for her family, has put three kids through secondary school and also supports her late sister's two children, who attend primary school. An entrepreneur, she has constructed a small rental house, invested in a new piggery business and employed five people to help run this and the dairy business and tend to crops. Looking ahead, she is already saving for another cow. She is such an inspiration, and is proof that when you give women farmers a few tools, the entire community benefits.
Zakia and Donata were very fortunate. They received support and instruction for improved farming, whereas millions of others are on their own. For poor people in rural economies, smart investments in agriculture are key to poverty reduction, economic development and accessible, affordable food. It works like this: farming is hard work that requires a lot of people to till fields, plant seeds, manage fields and harvest crops. Once they're grown, crops also need to be processed, stored, transported, marketed and sold. The demand for labour creates employment for millions of people in rural areas who are currently out of work. Once they start improving their own farms or working on their neighbours' farms and earning incomes, they not only produce more food but they spend their earnings on goods and services in their hometowns, creating businesses and vibrant rural economies. More food means lower food prices for them, their families and for people living in cities. Constant and reliable access to safe and nutritious food ensures food security that allows more families to give their children a head start on a brighter future.
Unfortunately, stories about famine and failure are more common, because for decades under-investment in sustainable, smallholder agriculture has left poor farmers behind. In fact, in 2008 when the last global food price crisis struck, donor investment in agriculture had fallen by 75% from its 1985 level. In response to millions of people being pushed into poverty due to high prices, which had raised the number of food-insecure people above 1 billion, donors at the L'Aquila 2009 G8 summit committed to reverse the decline in spending on agriculture and food security. But the pressures that led prices to skyrocket beyond the reach of poor people have not disappeared and may only intensify.
In fact, the world may be entering a new era of repeated food crises characterised by scarce resources and market volatility. The World Bank has estimated that, in early 2011, rising food prices pushed another 44 million people globally into poverty. [1] Populations are growing. Land and water, both important resources for farming, are drying up. Higher oil prices are making fertiliser, irrigation and transport more expensive. Droughts and floods are becoming more severe. More and more food crops are being replaced by fuel crops, and investors are playing with food commodities in financial markets. Stories of famine, unrest and destitution are threatening to become commonplace. But with the right investments in agriculture and food security, donors can help poor farmers take advantage of high prices and stave off most future food crises. However, they cannot wait to respond until another crisis erupts. The last time was tragic; allowing such eruptions to return unnecessarily every few years would be criminal.
Smart investments in agriculture are proven to pull people out of poverty, reduce food prices, grow economies and build capacities to withstand shocks from high food prices or adverse weather. [2] One of the major challenges for our food system is that donors, national governments and others have been too complacent about the availability and security of the world's food supply. Food prices fell back again in the aftermath of the global financial crisis and, as riots subsided, solving domestic budget battles consumed their attention. Nevertheless, rich donor countries are still the international engine that can prevent crises from striking again and again. This is why meeting the L'Aquila promises and improving on them is urgently needed to prevent future food emergencies and to lift people out of extreme poverty.
This report details the promises that donors made at the 2009 L'Aquila G8 Summit to tackle food insecurity. They promised to reverse the decline in spending on agricultural development and food security and to maximise the effectiveness of aid dollars by agreeing to several 'smart' aid principles at the 2009 World Summit on Food Security later that year. This report evaluates their progress toward fulfilling both these quantitative and qualitative promises. It also assesses the progress that donors have made on their commitments to transparency and accountability, and then suggests a path forward for the G20 to address global food insecurity.
2. Peter Hazell and Steven Haggeblade, 'Successes in African Agriculture: Lessons for the Future', published for the International Food Policy Research Institute (IFPRI), 2010.